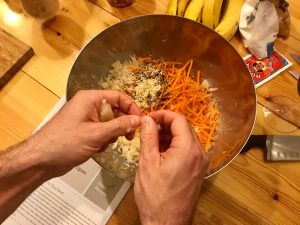 Seeking authentic and high-quality Thai food in Barcelona can be somewhat of a challenge, especially if you are from a city like London where Asian fare is intrinsic to its gastronomic scene. Thai Together, founded by the charming Liz Kalnin, not only provides the opportunity to sample delicious Thai cuisine, but also teaches you how to cook it for yourself.
Born and bred in Thailand, Liz relocated to Barcelona to share her passion for Thai cooking with tourists and locals alike. She recently began holding classes in El Raval's quirky kitchen space 'Espai Egg', with help from Valerie at Event Maker Barcelona, who occasionally helps to manage and promote Liz's classes.
Each class consists of a hands-on and interactive experience, under Liz's professional and patient instruction, whilst surrounding by like-minded people with a love of Thai food in Barcelona. Whether you're an Asian cuisine newbie or connoisseur, Thai Together welcomes guests of all abilities with an eagerness to learn and to sample unique flavours. However, if cooking comes as a challenge to you, you can rest assured as unlimited wine is provided throughout the evening to calm any cooking nerves!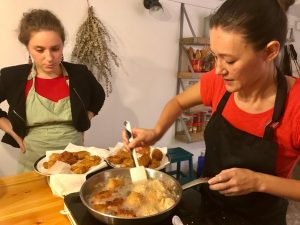 Liz's begins the class with an introduction to Thai cooking, from the typical ingredients used to how to prepare and combine fresh ingredients to create spectacular dishes. Whilst the recipes vary from class to class – perfect if you'd like to return to one of Liz's sessions – the menu always consists of three distinctly Thai dishes. That said, each course has an innovative twist and several personal touches by Liz to ensure that the menu caters to all palettes, tastes and dietary requirements.
To begin, we prepared a zesty pomelo salad with a tasty fusion of mint, coriander, lime leaves, fresh coconut and chia seeds, all tossed in a homemade dressing of shallots, peanuts and red chilli for that all important kick. Following this, we prepared the main course, which was a panang chicken curry. This creamy, coconuty and warming dish is perfect as the weather cools down and autumn approaches, and certainly leaves your tastebuds singing with joy. Dessert consisted of fried bananas coated in shredded coconut and sesame seeds, and whilst it may not be the healthiest post-dinner option, it certainly is worth the calories – especially with a dollop of ice cream on the side!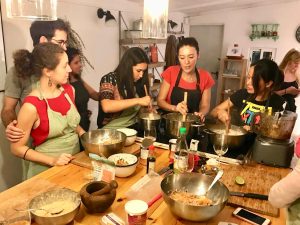 Cooking complete, the only thing left to do is enjoy the fabulous spread of food after hours of tantalising your senses with the incredible aromas wafting around the kitchen. The dinner party takes place in the adjoining outdoor garden, where you can tuck into your Thai creations and bask in the success of your newfound culinary skills whilst enjoying an evening of alfresco dining. It is also the perfect opportunity to pick Liz's mind about any cooking questions, including where to source such ingredients in the city yourself.
If you would be interested in enjoying some Thai food in Barcelona and booking onto one of Thai Together's fabulous cookery classes, 'Like' and keep an eye out on their Facebook page for their upcoming dates.