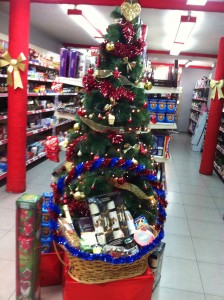 If "home" happens to be the UK, you'll find more than just a taste of whatever you might have been craving here. Informally known as "the English Supermarket," this is a treasure trove of tasty treats that you wouldn't normally find in Spain. There are over 2000 products available, which can also be ordered online and delivered to your home.
Let's start with a seasonal shout: you'll find all your classic Christmas favourites such as mince pies, Christmas pudding and instant custard powder, and even Christmas crackers. Ho ho! Chocolate Valentines hearts, Easter eggs and Halloween specialties also hit the shelf as the calendar turns.
If you've got a sweet tooth, the biscuit aisle with custard creams, jaffa cakes and countless more favourites will be sure to hit the spot. There is a wide selection of typical chocolates, from bars of Cadbury's to boxes of Milk Tray and Terry's Chocolate Orange. If you like to bake your own cakes, you'll find food colouring, decorative sprinkles and colourful cupcake holders… and even the birthday candles to pop on top. And if you'd rather just have your cake and eat it, then marble cakes, Victoria sponges and Battenberg cakes are just a few to choose from.
Savoury snacks include crisps and crackers. You'll also find cheeses such as Calverley Crunch, Vintage Cheddars, Garlic and Herb Lancashire, and Fiery Dragon Cheddar. There is a large selection of ready meals and Heinz soups for a tasty supper on the go. Indian curry sauces and pasta sauces are available for those prepared to make a little more effort! Pickles and chutneys, jams and spreads, sauces and vinegars will add that special touch to your Barcelona meal times.
Fancy some Irn Bru or lucozade? Apple and blackcurrant squash or Ribena? Twining's Earl Grey or a gold old cuppa Tetleys? There's also a selection of imported beers and popular tipples like Pimms.
British cuisine is often teased for being so international, so it comes as no surprise to find shelves dedicated to some of the products that we associate with home… but which originate elsewhere, such as Dutch bacon, German sausage and Mexican tortilla kits. There is also a nice range of vegetarian and gluten free options.
Like any good supermarket, you'll find more than just food and drinks. British brand toiletries and household items are also available. There is a good selection of greetings cards. You can also feed your mind with the book swap available, bring a paperback you've finished with and take something new. But be warned; once you've discovered A Taste of Home, expat life in Barcelona will never quite be the same again!
Info:
Address:
C/ de Floridablanca 78
Area:
Sant Antoni
Telephone:
(0034) 933 251 797
Open:
Mon to Fri 10:00 – 14:30 _ 17:00 – 20:30
and Sat 10:00 – 20:30.
Open on Sundays in December.
Website:
www.atasteofhome.eu.com
Where: