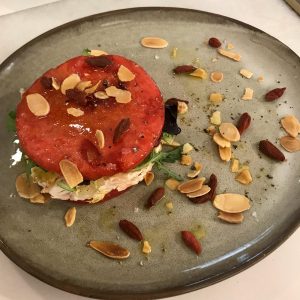 If you follow healthy food trends, it is likely that you will have come across the current craze of salad bowls. These Instagram-friendly one-dish meals are essentially a colourful concoction of vegetables and high-protein toppings, tossed in a flavourful sauce. Perhaps one of the most photogenic ways to reach your daily recommended number of veggies, Suís & Bowls have put their own innovative spin on this concept, making them one of the top healthy hotspots for lunch in Gràcia.
This recently renovated eatery has tapped into the healthy food frenzy and transformed itself into a one-stop restaurant and pioneer in all things nutritious and tasty, since its days as a cafeteria. That said, Cristina González, the owner of Suís & Bowls, equally recognises the importance of treating yourself to a sweet delight, therefore has extended her menu to include naughty, comfort food options, such as nutella laden waffles and crepes. Ultimately, her intention is to create a gastronomic environment that can be enjoyed by everyone; from grandmothers to grandchildren, vegans to carnivores and health nuts to chocolate lovers. It is this inclusive ideology that has lead Suis and Bowls' to have a loyal customer base of locals and expats, making it a populat spot to enjoy a delicious lunch in Gràcia with friends.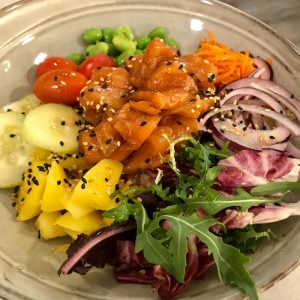 If you're planning on enjoying a lunch in Gràcia between Monday and Friday, we recommend opting for their daily menu. For a reasonable €9.90, you can enjoy a drink, starter, bowl of the day and a dessert or coffee. With such a varied assortment of refreshing juices and smoothies, one of their fruity combos is a must as a midday re-energiser (the Dr Kale in particular). Alternatively, if you're in need of a stronger stimulant, opt for one of their many lattes of various colours and flavours – turmeric, charcoal, pink pitaya – the list goes on!
Given that the menú del día changes frequently in order to make use of seasonal products, their bowl of the day could be any one of their tempting combinations, or an entirely new recipe. However, if it doesn't take your fancy, perhaps stick to their main menu and take your pick from one of their vibrant salad bowls, filled with rich superfoods, vitamins, proteins and herbs. Our favourite is the Moroccan – a tasty blend of couscous, cucumber, hummus, dates, broccoli, sesame seeds, cashews and chicken with a curried almond sauce. Each ingredient is chopped into bite-sized pieces, so you'll get a medley and explosion of flavours in just one mouthful – delicious!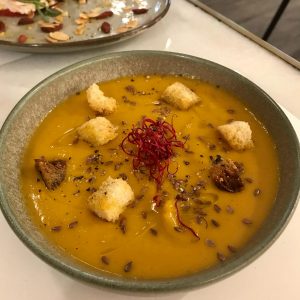 Suís & Bowls is also renowned for their meticulous presentation and attention to detail. Take their watermelon and goats cheese timbale, for example – it's beautiful arrangement and delicate garnish of toasted almonds and honey makes this dish almost too pretty to eat! These small works of art are just another reason to pop Suís & Bowls on your Instagram page, and spread the word about this fabulous restaurant.