If you are passionate about food and you already know all of the restaurants in Barcelona, maybe we can suggest something different that might interest you… a Barcelona secret food tour! As we're sure you'll most definitely love this, why not try a secret food tour in Seville as well..
In their mission to showcase delectable and little-known cuisine to travellers, Secret Food Tours have expanded to Andalucia's capital, Seville. Just like its Barcelona equivalent, the Seville Secret Food Tour will take you off the beaten track to the city's best eateries, and teach you everything you'd like to know about the area's gastronomic traditions and history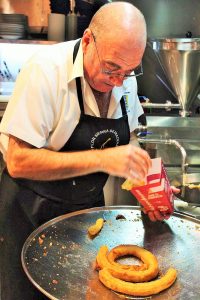 Central to the Secret Food Tour success is the personal nature of tours. Small groups of ten people maximum ensure an intimate experience with your guide, who will lead you between seven stops. Along the way, you will be enlightened on Seville's 2,000 year past and discover the sincere passion for food and drink that Sevillians maintain to this day. Secret Food Tour's guides are friendly, personable and above all, knowledgeable local food junkies who delight in sharing their hometown's secrets with people from all over the world.
With tours lasting over three hours, there is plenty of time to sample Andalucia's favourite recipes. From well-known sweet snacks, such as churros dipped in melted chocolate and encrusted with sugar crystals, to local dishes including pringá – roasted meat, slow cooked for hours and served with crusty bread – you will be treated to a wide range of Seville's culinary offerings. It is a remarkable opportunity to learn of the origins of these recipes and even see some of them prepared.
By serving several small tapas dishes at each venue, the tour is also an insight into the tapas eating habits of the Iberians who prefer to share plates in groups. It is quite a different dining experience from the typical Western style of eating with a starter, main and dessert. In the Spanish tapas style you can try a small amount of everything and it won't matter if you are a fussy eater (or as the locals say, a tiquismiquis). Those with a large appetite don't have to worry either; with so many stops you are guaranteed to finish the evening full!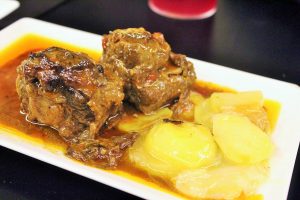 Besides eating your way through Seville's traditional eateries and restaurants, your guide will also reveal some of the noteworthy sites around the city. Every tour is individual and subject to change according to season or the dynamic of the group, but it is likely you will see popular locations like the ancient Triana neighbourhood, the Bridge of Isabel II, and the Mercado de Triana. You may also see the spot where the Spanish Inquisition used to dump the bodies of their victims into the river Guadalquivir and other places not likely to be found without a local guide, making the Secret Food Tour all the more special and informative.