Uncover the Catalan capital's best kept foodie secrets on this gastronomic journey through the quaint El Born and enchanting Barceloneta neighbourhood. Seeking local Mediterranean flavours off the beaten track, Secret Food Tours Barcelona ensure that you experience Barcelona's thriving avant-garde culinary scene with an enthusiastic guide, to please gastronomes from all walks of life.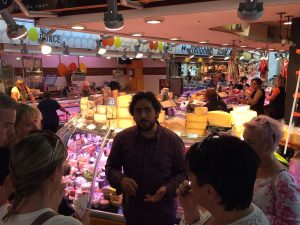 This authentic epicurean experience begins in the bustling Plaça de l'Àngel, only a stone's throw away from the first stop of the tour; one of the oldest patisseries in the city. Amongst their tempting assortment of deliciously fluffy meringues and homemade truffles, the panellets are a highlight of this local treasure. These dainty pine nut encrusted cookies will certainly leave your tastebuds singing with joy with their irresistible sweet almond filling.
To continue your gourmet escapade, a wander through El Born – a neighbourhood that retains its ancient medieval charm yet exudes the city's cosmopolitan vibes with its selection of chic bars. This hybrid area is also famed for the Santa Caterina market with its iconic roof and abundance of fresh and seasonal produce – a far cry from your run-of-the-mill supermarket back home. It certainly reflects Barcelona's vibrant soul, and is ideal for sampling Catalan nibbles. Indeed, at this market you will sample Spanish cheeses and needless to say, a medley of jamón. In true Catalan style, the experience ends with a tutorial of how to master the art of the porron. This drinking device adds a whole new dimension to wine drinking and takes some getting used to, but once you've got the knack you won't look back!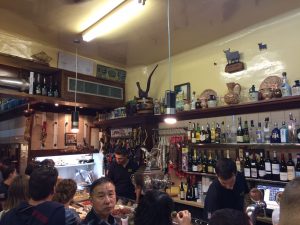 A short amble around the emblematic winding streets of Born will work up your appetite for your next course in a quintessential Spanish eatery. Rustic and unpretentious with a dedication to authentic yet high quality tapas makes this place an unbeatable find. Amongst its exquisite menu of lightly smoked octopus and tender pork seasoned to perfection, their homemade sparkling wine is a delicious addition to your meal. What's more, for such a central location you can temporarily escape the hoards of a tourists and immerse yourself in this local setting, as your guide explains the intriguing history of this Catalan gem. Whilst ordinarily, Spanish customer service is not something to write home about, their gracious staff are worlds away from this stereotype, regardless of linguistic barriers.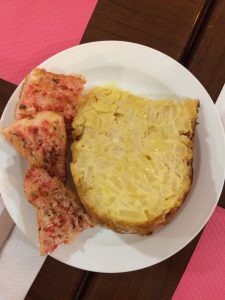 After a roam around one of Barcelona's oldest nut roasting shops, the final stop of this food tour is tucked away in the characterful Barceloneta. Calling all chowhounds, this restaurant's plentiful portions and array of fusion dishes, which combine tapas staples with international crowd pleasers, make this spot an unbeatable end to the tour. Their tortilla is perhaps the largest to grace any of the city's countertops whilst their patatas bravas are the perfect balance of spicy yet sweet.
If you find yourself in a food coma after a morning of welcomed gluttony (don't worry, that's normal), fortunately the beach is only a short walk away. What could be better than an afternoon of basking in the sunshine and snoozing on Barceloneta's golden sands, as you dream of your unforgettable experience with Secret Food Tours.