All visitors to the Catalan capital arrive seeking authentic Spanish cuisine, and whilst the c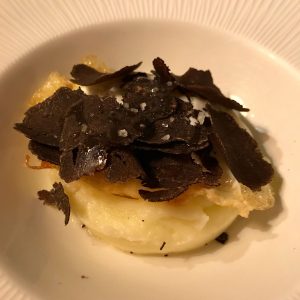 ity may boast a wealth of traditional eateries, it is not an easy task distinguishing the good from the bad. In a cosmopolitan metropolis like Barcelona, attention is largely focused on the trendiest new restaurants, neglecting old treasures which have stood the test of time, attesting to their excellence. After 32 years, Roig Robí continues to unite tourists and locals, thanks to their mutual appreciation for top-quality Mediterranean fare, with unparalleled flavours and impeccable presentation.
Tucked away on a street famed for its vintage furniture stores, Roig Robí's location in the upmarket district of Gracia certainly befits the restaurant's elegance. Its conservatory-style dining area faces an idyllic walled garden laden with ivy and ferns, perfect for al fresco dining in the spring and summer months. Roig Robí's classic interior with a contemporary touch is a faultless setting for a special dinner, may it be a birthday celebration or a business gathering.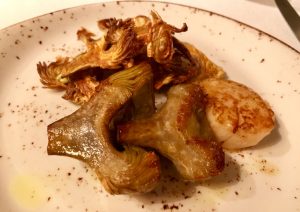 Much like their decor, Roig Robí's menu focuses on recipes that are quintessentially Catalan, yet adapted to suit a modern palate and an international clientele. Mercè Navarro, owner and head chef of this prestigious dining spot, ensures that Roig Robí prepares all their dishes with love and honesty, making each guests experience unique and memorable. Their penchant for using only the freshest, local and seasonal ingredients creates exquisite flavours, that are difficult to find elsewhere in the city. They receive a fish and seafood delivery not once, but twice a day, to guarantee their customers an unforgettable taste of the Mediterranean.
Navarro's impressive menu prides itself on its ability to revamp the image of traditional Catalan cuisine. The ultimate way to sample a wide array of their sublime combinations is with their tasting menu. At a modest 66 euros, enjoy a superb six-course meal, featuring  a delectable trio of starters: sea bass and shrimps tartar with trout caviar, mashed potatoes with egg and black truffle and artichoke textures with scallops. As tasting menus go, flexibility can be restricted. That said, Roig Robí provides you with two entrée options of veal fillet from the Pyrenees with potatoes gratin or candied Iberic suckling pig with onions and apple purée – depending on your carnivorous preferences. If space permits, Roig Robí perfectly ends your meal with pure chocolate decadence, to please all sweet-toothed diners and chocoholics alike.
For any concerned wine connoisseurs, their selection of vintages is on par with the food's excellence, featuring bottles from Catalonia's most iconic grape-cultivating regions. If you require any inspiration, in addition to the waiters' advice and expertise, Roig Robí exhibits their finest bottles for you to peruse at your leisure. Buen provecho!