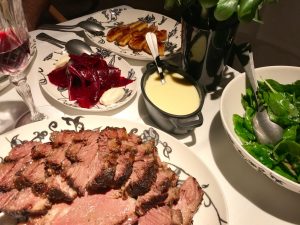 Presenting an extraordinary and unusual gastronomic concept, Plat Únic is one of Barcelona's hottest dining spots, and a must for anyone taking a trip to the Catalan capital. Given that it is tucked away at the back of the boutique hotel, Yurbban Trafalgar, in the iconic Eixample district, it may be difficult to stumble across this stylish dining spot by accident. However, we can assure you that it is well worth seeking out this foodie gem.
The eponymous concept is based on traditional fondas, which are known for serving just one special dish of the day. Similarly, Plat Únic serves an exquisite single menu, with second servings available, and unlimited wine, all for a modest 29 euros. This blend of à la carte and buffet-style dining creates a sensational combination of high-quality, delicious food at an affordable price. What's more, a single three-course menu allows the chefs to focus their efforts on beautiful, simplified and exceptional cooking with impeccable presentation.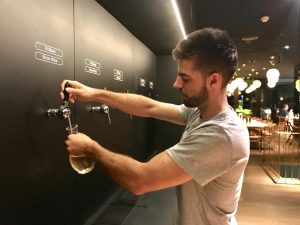 Following an introduction to the restaurant and its unique ideology by the maître d', enjoy a trio of Mediterranean starters – smoky marinated olives, pickled peppers and freshly baked bread. Whilst this may not sound like much, it's the perfect light introduction to your meal. The main course consists of an impressive serving of prime Galician beef ribs – slow cooked, medium rare, and so tender they just melt in your mouth – pleasing carnivore chowhounds tremendously. Plat Únic serves this alongside a varied assortment of vegetable sides, including beetroot carpaccio with horseradish sauce, a tangy spinach and ginger salad, and an insanely smooth and creamy potato puree. The fusion of flavours is only made better by the selection of accompanying sauces – our favourite being their homemade mustard concoction.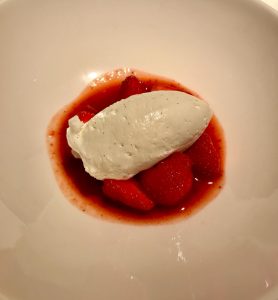 However, at Plat Únic, innovation does not end with their food. They also pride themselves on their self-serving beverage dispenser. Simply pick your carafe and help yourself to some of Terra Alta's finest vintages or Catalan vermouth, and enjoy as much of it until your heart's content. Fortunately at Plat Únic they serve such generous portions your evening won't wind up with you being blurry-eyed and heavy headed!
Finish off your sensational evening with a gin and tonic on Hotel Yurbban Trafalgar's spectacular rooftop terrace, boasting unbeatable, panoramic views of the city. That said, their gin and tonics alone are reason enough to grab a drink at this bar, thanks to their heavenly gin, GINRAW. Whilst this gin may be relatively new to the Barcelona drinking scene, this locally produced spirit is ginious!