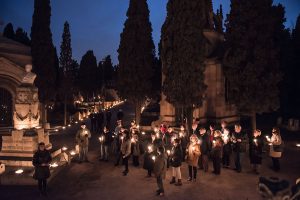 Barcelona offers a diversity of organized tours all throughout the day. Montjuïc cemetery provides a special experience for those who have the courage to take it. Their guided night tour will walk you along the resting places of some of the most important people in the history of Barcelona. Thinking of walking through a cemetery at night might cause chills to run down your spine. Be of good cheer, those willing to take the risk are in for a treat!
Montjuic cemetery night tour:
For a second you'll think you're seeing a ghost as people dressed in late nineteenth century attire walk past. You'll hear the galloping of horses as they take one of the funerary carriages through the cemetery, and violin players will put you in a trance. These are purposefully set up to take you on a blissful trip back in time.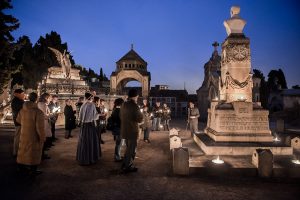 There will be plenty of opportunities to learn about the history and symbolism behind some of the burials. You might even get a visit from some of the famous people resting at the cemetery such as poet and playwright Àngel Guimerà (May 1845-July 1924) himself. You might find him around one of the cemetery's corners reading poetry and he'll tell you all about how much he loved it, but that his true love resided in the theater. This led him to write plays like "Terra Baixa" and "María Rosa", which earned him the reputations as one of the most important playwrights of his generation.
Price
Admission is free and open to everyone, with prior registration here
Location
Cemetery Montjuïc