Spain is renowned for its wide array of tapas delicacies, combining fresh and seasonal products with Mediterranean flair. So why not add a twist to your trip, and learn how to make typical Spanish cuisine yourself with Just Royal BCN 's tapas cooking workshop.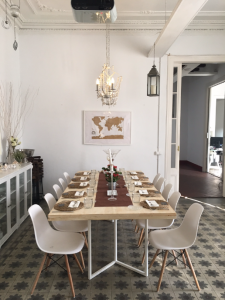 Nestled away in the picturesque Plaça Reial, this dynamic and interactive experience comprises of a tour around the iconic market, La Boqueria, followed by a hands-on cookery class with the charming Chef Alfredo Rodriguez. His entertaining persona bears no limits by the language barrier, but rather brings authenticity and originality to the workshop. That said, his right hand woman and translator, Janelle, eases communication between parties, as Alfredo dives into the intriguing history of Spanish cuisine and instructs throughout the class.
The experience begins with an optional tour around the nearby La Boqueria, kindly escorted by your hostess, Janelle. With a rainbow of top-quality produce and diverse blend of aromas, it's hardly surprising that it is saturated by tourists, making it all the more useful to have a local guide you through the hustle and bustle. From anecdotes about the sellers themselves to the history of Catalan gastronomy and its traditions, Janelle certainly provides plenty of food for thought!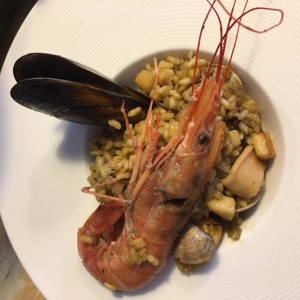 Once introduced to their beautiful kitchen, fully stocked with premium chef-approved products, the workshop kicks off with a tasting session. All carefully prepared to perfection by Alfredo, the sampling menu consists of a spectacular array of ten tapas, originating from various cities within Spain. Deliciously garlicky prawns, melt in your mouth croquettes and octopus "feira" are amongst several other delectable dishes served up by the charismatic chef – all presented to the highest of standards. You will be hard-pressed to find tapas on par with Alfredo's elsewhere in the Catalan capital.
After being seduced with sublime flavours, it's time to acquaint yourself with the fundamental basics of Spanish cooking. From kitchen novices to cooking enthusiasts, those of all skills will take pleasure in learning how to cook Just Royal BCN's traditional menu of Spanish omelette, seafood paella and a regional favourite, the famous 'crema catalana'. This communal cooking experience not only allows you to master the art behind the craft of exquisite Spanish cooking but also the chance to mingle with fellow foodies, or simply to enjoy spending time with a loved one. Not to mention, the workshop is heavily assisted by an endless flow of wine, making both cooking and dining even more enjoyable.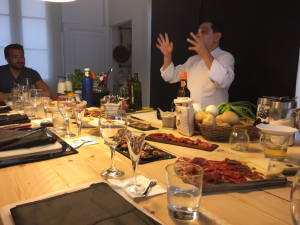 Cooking complete, you will be invited to their private lounge – a gastronomic dining space oozing elegance and finesse. Mealtimes are certainly not something to be rushed in Spain. Therefore in true Iberian style, enjoy a leisurely feast and revel in your new-found status as a chef and connoisseur of Spanish cuisine. What better souvenir to take home with you than the taste of Spain?