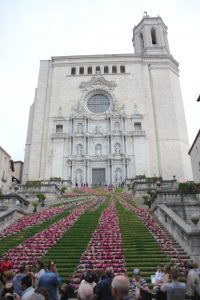 Without doubt, Girona is one of the gems of Catalonia that everyone falls in love with when they come to visit. So imagine what it's like when all of the streets and walls of this incredible city are covered with flowers! What a dream… but don't pinch yourself just yet, because it's true! Welcome to the Girona Temps de Flors, or the annual Girona Flower Festival.
This beautiful festival is celebrated each year in spring during the second week of May. This year's event takes place from the 11th to 19th of May, and attracts visitors from all over the world who are eager to see how this mediaeval city has been transformed into a green-fingered paradise.
Further to this, Girona offers a range of activities and walking routes perfect to see every inch of the city adorned with these magical floral bouquets. And best of all, most of the festival is totally free!
Girona Temps de Flors
This year, this internationally loved event will celebrate its 64th edition and in every edition, the festival grows bigger and bigger: in 2019 there will be 171 individual floral designs across 137 different spaces in the city! These floral motifs will be placed in the areas of Barri Vell and Mercadal, the theme of this year's event The Forest of Flowers… Expect then to find decorations which celebrate our beautiful relationship with Mother Nature.
Although all of Girona will be covered in flowers, the most important places to be decorated will be those in the Cathedral: the stairs, the inside of the building, the vault, the cloister, and the apse (an inaugurated space this year). As well as the Cathedral, don't miss out on some of the other sensational landmarks in the city like the Arab baths, el edificio de las Sarraïnes, los jardines de Francesca, la capilla de San Cristofol, la torre Gironella, and los jardines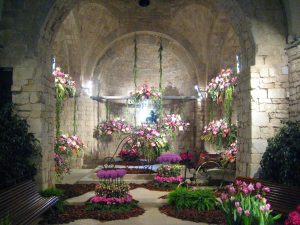 alemanes… There are a million more things to see!
For the past years, organisers of the festival have sought to make the event more accessible for everyone, creating two special itineraries for those with mobility issues, so that everyone can enjoy the Girona temps de Flors.
Visitors can find all of the festival routes in the form of a free city map. These maps can be obtained from various stands around Girona.
Opening Hours
The festival welcomes visitors every day from 10:00 to 22:00, and on Wednesday 15th and Saturday 18th, visitors will be welcome over 24 hours! Don't miss out on your chance to see these fantastic floral motifs at night…
Other Activities
Apart from walking through the beautiful streets of the city, visitors can enjoy many more activities during the Girona Temps de Flors. Why not go on a guided tour of the city and learn more about the history and the stories behind these floral decorations. There are plenty of guided tours on offer during this time, so we're sure that you'll be able to find one to your taste. Guided tours can also be a good way to avoid tourist queues in the city, as of these, there are plenty during this time.
Another great option is to try one of the floral menus that 27 restaurants in the city will be offering. This gastronomic creation, even coming with its own hashtag #Gastroflors, includes dishes that use flowers as their main ingredient! Super original, and incredibly delicious.
Last but not least, this year, the city's Acapella Festival is also being held at the same time as Girona Temps de Flors. Why not mix it up and do both! Everyone knows that Acapella goes great with flowers…
How to get to Girona
The best way to get to Girona from Barcelona is by train. From Passeig de Gracia station, Renfe trains leave approximately every 20-30 minutes for Girona. Remember to check the timetable before you go so you're not left waiting too long on the platform. Renfe also offers discounts on train tickets to Girona during this time, and the discount coupon can be obtained through their website.
Since it's less than 100km from Barcelona, you can also drive to Girona. Using the motorway, the journey will take little over 1h 30 minutes. Keep in mind that the city will be busier than usual during this time so expect delays for parking.
If you're still undecided about Girona Temps de Flors, watch this video and see everything that this year's event will bring! For more information about Girona, why not read our Day Trip to Girona post where you can find out everything you need to know about this spectacular city.