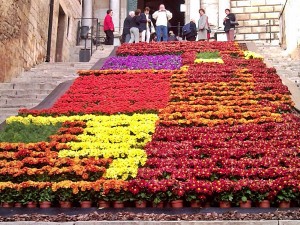 The historic city of Girona is one of the most interesting places to visit in Catalunya, and just 85km from Barcelona. Its Roman and Medieval past is fascinatingly well preserved within fortified enclosures, and its contemporary culture offers something for everyone, from museums and historic sights, to bars, terraces and countless spots where you can soak up the sunshine.
Girona Flower Festival
Girona's legendary flower festival dates back to 1954 and has now become a highlight of the city's cultural calendar.
For 10 days in May, Girona explodes with colour as 185 delightful floral displays are scattered throughout the city. These innovative creations can be found in public gardens, around the main monuments, along the river, and in specially decorated patios.
Sights and museums:
Dominating the skyline is the gothic Girona Cathedral, a grand, imposing monument built between the 11th and 18th centuries. Its white stone, la pedra de Girona, is full of fossils and when the weather is fine it contrasts starkly against the blue firmament. Entry is free on Sundays. A must-see is the museum inside which holds the Tapestry of Creation, a woven piece of magic telling legends of the Creation.
Some may recognise the quaint streets of the old town from the film Perfume. This is an impressive area of the city and includes a very well preserved Jewish district known as El Call. Special events will be organized here during the "14th European Day of Jewish Culture and European Heritage Days," during the weekend of the 27th-29th Sept. These include guided exhibition tours and performances. (info:www.girona.cat) Girona's famous annual Jazz Festival takes place around the 15th-29th September, with local talent and some very special guests. (Program and details:www.festivaldejazzdegirona.com)
The fortress wall surrounding the upper part of Girona was built in the 1st century by the Romans. It encloses the city and protecting it with a defensive rampart built from large stone ashlars. Parts of the remaining wall offer spectacular views of the city, the Cathedral, and the University, whose students add vivacity to an already animated city.
Art galleries and museums pop up in winding streets and unexpected places. The Museu del Cinema in the central shopping area and the Museu d'Història dels Jueus are worth visiting. When you tire of being inside, the Arab baths and John Lennon Gardens are beautiful places to wander around idly in the sunshine.
Cafés, bars, restaurants, and clubs:
Snug in a tranquil square on the outskirts of the Old Quarter lies Context Cafè (C/ Pou Podó 21), a splendid library-inspired café promoting all manners of cultural performances, from music to art. There is a library upstairs. Modern, almost garish paintings hail the books on display opposite, frenetic whorls of colours clashing with the chilled out semi-bohemian diurnal atmosphere.
Els Jardíns de la Mercè (Pujada de la Mercè 10) serves superb dishes and offers a charming outdoors terrace and garden complete with small fountain. The duck with pears is highly recommended. Other great restaurants, favoured by locals for dinner, are El Cau del Llop (C/ Sacsimort 5) and Le Bistrot (Pujada Sant Domènec 4). The former is a homely, atmospherically lit place, tucked away in the backstreets by the Cathedral. Le Bistrot sits elevated on the steps of Sant Martí upon which, if you arrive there early, you can dine accompanied by candlelight. Their specialties are pizzes de pagés but they also serve wonderful pastas and salads all for a very reasonable price.
If you're more nocturnal, Girona has a seemingly inexhaustible supply of bars and clubs. For those used to pulling their own pints try El Doll (Pujada Sant Felix 21), where you simply buy a card (yours for keeps) and swipe to begin drinking. Aficionados of jazz should check out Sunset (C/ Jaume Pons Marti 12,) a bar with plush seating, decadent decor, and some of the best cocktails in Girona. Contemporary jazz and live bands play between golden oldies. Other vibrant, edgy options include Lola Cafè (C/ Bonaventura Carreras Peralta 7) and El Pati del Rabí (C/ del la Força 20), complete with patio and lemon tree. As the night canters on, Paparazzi (C/ José Canelajas 2) tempts those dancing shoes with the latest pop music. Decorated in the style of film strips and photographs covering the walls, the club has its own paparazzi-themed photographer to take your pictures. A recently refurbished club is as luxurious as its name Lux (C/ Figuerola 50) suggests, with sumptuous purple walls and candelabras glittering from the ceiling.

Getting there:

There are many different trains, whose prices range from the fast AVE (37 minutes, 55€ return) to the Regional Express (1hr 31 min, 12,56€ return). Check timetable on renfe.es. More info: www.girona.cat