There's no doubt that Barcelona has some wonderful restaurants and some delicious cuisine, but even so, it's sometimes difficult to find a spot that does totally traditional spanish tapas. If you are spending some time in Barcelona and want to visit another place in Spain … you have to visit Seville!
If you've experienced one of the superb Barcelona food tours organized by Devour, you will no doubt want to know if they offer similar tours in Seville too. Luckily for all food and culture lovers, Devour does has a range of offerings in Seville, including their Tapas Like a Local: Triana Neighborhood Tapas Tour. Over 2.5 hours, you will explore the intriguing Triana neighbourhood, origin of flamenco dancing, and sample tapas dishes from four family-run tapas bars.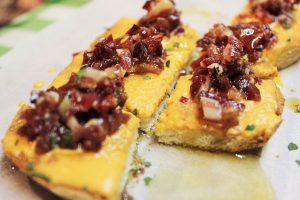 Meet your guide and begin your tapas crawl by walking across the Puente de Isabel II bridge into the Triana barrio. Centuries of separation from the main city have given this area its own distinct vibe, creating a proudly different Triana identity for those who live there. As you wander through the narrow streets, filled with bars and restaurants, it will become apparent why this Devour food tour focuses solely on the Triana district.
Along the way you will meet the characters behind each venue. Many have run their bars or eateries all their lives and are well known in the community for the quality of their fare. Speaking to these vibrant personalities, it is striking how central gastronomy is to traditional Spanish life and how important preparing and enjoying food is for all generations. Your guide will further embellish your experience with facts, stories and anecdotes about the places you visit and the people who own them, and answer any questions you might have.
At each stop you will receive a typical beverage and a couple of sharing dishes. The drink might be the local beer, Cruzcampo lager, a glass of wine (always a safe choice in Spain), or perhaps something more unusual, such as a refreshing tinto de verano. Alternatively, you may also taste the regional favourite, sherry, which is made a short distance from Seville near Jerez.
The tapas plates you get to try also vary widely, but all have in common an authentic Iberian recipe and each is made with the freshest and highest quality ingredients. Since you visit four different places, it makes sense that your Devour guide will select the tapas most renowned from each venue. As such, at one stop you may get to appreciate a range of cured meats, such as salchichón, chorizo and caña de lomo. At another, munch your way through grilled mushrooms with parsley aioli and pork sirloin on bread.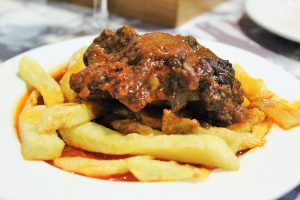 By the time you arrive at your final stop, rest assured your appetite will be sated and your curiosity for Seville's dining traditions exhausted. You will also be armed with plenty of expert advice on selecting your next place to eat and be laden with recommendations and tips to get the best out of your trip. And what more could you want from a food tour!