Most visitors to Mediterranean countries are struck by the centrality of gastronomy in the locals' daily lives, especially compared to the fast food culture endemic at home. Fortunately, mealtimes remain sacrosanct in Spain, and Barcelona is no exception to this appealing tradition. As a result, the Catalan capital boasts dozens of markets overflowing with exotic produce, and hundreds of eateries which truly appreciate the importance of fine cuisine. Likewise, Devour Barcelona recognises its significance and accurately reflects Barcelona's rich diversity with its vast array of food tours.
With Devour Barcelona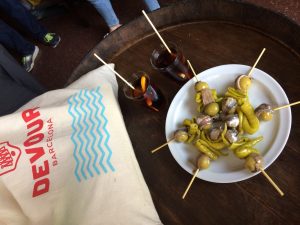 , you can explore almost every district of the city, focusing on wine, tapas and markets. Other experiences include child-oriented routes, private and corporate events, and visits to wineries in the surrounding idyllic countryside. In other words, Devour Barcelona embraces the full myriad of culinary opportunities across the city and beyond, and makes it easily accessible for gastronomic experts and more casual tourists alike.
Of course, the guide is the principal influence on any tour and we were fortunate to have ours brightened by the vivacious and knowledgeable Katrina. Having lived and worked in the city for seven years, she provides an indispensable bridge between the Hispanic and Anglocentric worlds. The tour began at the iconic Mercado de Santa Cate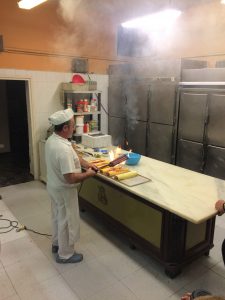 rina, the first choice for many local chefs, given its plethora of fresh ingredients. It was clear that we were in the oldest heart of the city as our first stop was a quaint cafe, open since 1852. We were treated to a behind-the-scenes look at their 100 year old oven which still bakes all their pastries, and has never been turned off! Naturally, we breakfasted here and were treated to a Catalan breakfast of Xuixo and coffee whilst Katerina explained the legend behind this unusual sweet treat.
Our route fully embraced Devour Barcelona's commitment to small family-run establishments as we were led to emblematic spots in the heart of the tourism capital. It was refreshing to escape shop and restaurant chains, but instead experience quintessentially Spanish bistros revealed by a familiar expert. The decor was authentic and the quality of the food and beverages were similarly bona fide – and all the more delicious for it.
As the group progressed between little-known restaurants and charming shops, Katrina pointed out noteworthy sights and places that would otherwise have escaped our attention. In this way, everyone learned a great deal about the cultural and social history of Barcelona as we allowed each taster to digest en route to another exciting destination.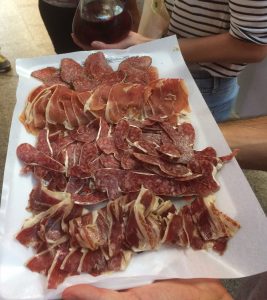 The day concluded with sit-down, two-course meal accompanied by another Catalan lunchtime favourite: cava. This was enjoyed in Barceloneta, an area famed for its fishing past and unsurprisingly, delicate cod fritters and Mama Carmen's lovingly homemade fideuà were on the lunchtime menu. The close proximity to the beach made this restaurant the ideal location to say our goodbyes and spend the afternoon lazing on Barcelona's golden sands.