The Erasmus programme is becoming an increasingly more important popular among students that enables a number of new experiences, not only for your studies or profession, but also on a personal level. For example, getting to know the world and opening your mind, growing as a person, freedom, experiencing things that you never have before, learning a new language or perfecting another, etc… Therefore, more and more companies value finding workers who have lived abroad for a while, as they seem to be more responsible, independent and mature. Qualities that everyone looks for when searching for new workers, without a doubt. If you are planning to spend a season away from home then you must consider completing your Erasmus in Barcelona! Let us explain why Barcelona is the best choice in the whole of Europe.
Erasmus in Barcelona, your best option:
It is not a coincidence that Barcelona features on the lists for "top cities where you can do your Erasmus". It is true, we are not wrong when we say that it is one of the few cities in the world that has it all: good weather, good food, friendly and open people; beautiful beaches, mountains, a cosmopolitan city but rich in history, great universities and, above all, a cheaper place in comparison to other capitals in Europe.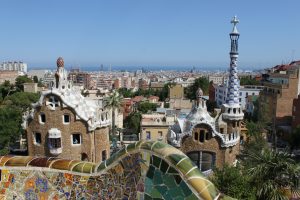 In addition, many people that come to do their Erasmus in Barcelona come from northern countries, where the climate is a lot colder and it rains daily. Therefore, we believe that it would be a change for the best to enjoy the Mediterranean climate every day, where it is warm in autumn and winters aren´t as harsh and it only rains now and again. When you come here, it is compulsory that once a week at least, you sit at a bar to sunbathe and enjoy an ice cold beer with a side of tapas. Another thing that you have to do is try all the local food you can, as Spanish and Catalan cuisine is considered one of the best in the world. As well, we have the best restaurant in the world, El Celler de Can Roca!
Another of the main advantages of doing your Erasmus in Barcelona is that this city has two official languages: Catalan and Spanish, therefore it is a great opportunity to practice or learn some of these languages. Currently, Castilian is one of the most useful languages to learn, as it is the second most spoken language in the world with 400 million Spanish-speakers. Yet still, don´t worry, as most Catalan people speak English and you will not have many problems when communic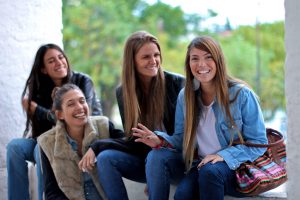 ating with locals.
On the other hand, if you are worried about whether or not you will meet people or don´t know your way around the city… It is not worth worrying about! As there is always something to do in Barcelona. In addition, Barcelona is one of the main student cities for excellence, therefore you are always going to have an opportunity to meet new people or go to Erasmus parties (which are very popular in the city).
Another of the main advantages of doing your Erasmus in Barcelona is that you are able to make the most of it and explore Catalonia as much as Spain. Catalonia is a region that has everything to offer: charming medieval towns, beaches and dream coasts with crystal water, unique mountains in the world, perfect places for an escape… in the same way, on behalf of Barcelona Connect, we recommend that, as soon as you find yourself in Spain, you make the most of discovering this wonderful country. From Barcelona, there are a number of options (flights, trains, AVE, buses…) that take you to every corner of Spain, so do not doubt taking a weekend break to Madrid, Sevilla, Granada, San Sebastián or Valencia… You won´t be able to leave without visiting them!
Accommodation in Barcelona:
Although Erasmus is a once in a lifetime experience that you have the chance to undertake, the truth is that it is not an easy path. It is known by everyone that one of the most difficult things to do when living abroad is, without a doubt, finding accommodation.
If you have decided already to spend your Erasmus in Barcelona, you are in luck, as in comparison to other European cities, renting a room is much more accessible. An example of this is that for renting a room in London, Paris or Amsterdam you can expect to pay at least €600/person per month. However, in Barcelona the average price is between €300 and €400, almost half price!
One of the best options for finding an ideal flat in Barcelona is the company AB Apartment Barcelona, as they have more than 700 apartments spread out all over the city, so that you are able to find your ideal accommodation easily in the zone you want. At the same time, there are many options of shared flats and individual accommodation with an excellent value for money for €500 you can rent a loft out by yourself!
So… are you looking forward to taking the step towards one of the best experiences of your life? It has never been this easy to embark on this adventure!