One of the things that we like most about Barcelona is that it's a very Cosmopolitan city, full of diversity and contrast… and as much as you can see this clearly reflected among its people, you can also see it in its neighbourhoods and districts. Due to this, it can be hard to decide where to stay in Barcelona that agrees with what you like, what you need and, above all, your Budget. For this same reason, Barcelona Connect brings you a collection of the best zones and apartments to stay in Barcelona in order to have a fantastic experience during your stay in the city. For this, we have used the company: AB Apartment Barcelona, which has over 600 apartments spread out throughout the city and excellent quality in relation to the price.
Where to stay in Barcelona:
-Centre of the city
The centre of Barcelona is Plaza Catalunya, and would always be the best option to stay in given its close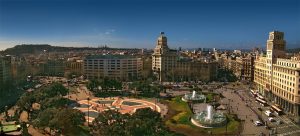 proximity to everything, especially, its great public transport connection to the rest of the city. Other good options to stay in Barcelona are: Plaza Universidad, Las Ramblas or Plaza Urquinaona. That being said, please take into account the fact that being in the centre of the city means that prices are much higher.
-Eixample 
Without a doubt, one of the best places to stay in Barcelona is Eixample. This district is one of the most modern, quiet and safest zones in the whole city, making it a great alternative if you´re travelling with family or feel like having a more relaxed stay. Also, in Eixample, there are some of the most important monuments in Barcelona, such as Casa Batlló, La Pedrera or the Sagrada Familia. Lastly, we haven´t forgotten about its good location which is close to the centre, which you can easily walk to.
-Gothic Quarter
If you like to live and breathe the essence of a city 100%, this is your kind of zone. The Gothic neighbourhood is one of the most charming zones in Barcelona due to its medieval quarter of the city, which is one of the largest and best preserved in the whole of Europe. Also, this is an area full of cafés, shops, artisan businesses and, most importantly, a lot of history in each corner (literally).
-Barceloneta and Poble Nou
Are you a fan of the sun, beach and partying? Then this is an area for you. Here is where all the beaches, beach bars, clubs and most touristic bars in Barcelona are located. If you rent a flat in this zone you will only ever be, at most, a 15 minute walk from the beach. Also, the neighbourhood of Poble Nou has lots of modern buildings and lots of apartments on offer. Lastly, Barceloneta is one of the most endearing areas of the city due to its fishing heritage.
-El Born
Last, but not least, is one of the prettiest and most historic parts of Barcelona. The neighbourhood of El Born is an excellent place to stay thanks to its close proximity to the Ciutadella Park, The Basilica of Santa Maria del Mar, the archeological site of El Born and The Gothic Quarter. Also, there are many shops, restaurants and good transport links in this area.
On a final note, other than its diversity and culture, one of the main advantages of staying in Barcelona is that, despite being one of the most touristic cities in the world, the prices of the apartments are not as high as the standard in London, Paris or Rome. In the apartments search of AB Apartment Barcelona, you will be able to see all apartments available for the dates you choose. Also, this holiday apartment renting company has diverse categories for flats spread out all over the city (Basic, Comfortable, Premium and Luxurious) so that you can find everything you need in a quick, easy and simple fashion. Using the code "ABFANS" you will recieve 5% discount off your next reservation. Don't wait any longer and reserve your stay in Barcelona today!