Occupying the grand downstairs area of the opulent Mandarin Oriental hotel on the exclusive Passeig de Gràcia, Blanc trumps most of its top-end rivals with its unique twist on luxury dining. In true Mediterranean fashion, it offers a less formal fine dining experience, whilst maintaining the same exceptional standards of its Michelin star rated counterpart, Moments. Despite sharing the same vicinity as one of Barcelona's foremost restaurants, Blanc stands out for its exquisite flavours, flawless presentation and impeccable service.
Priding themselves on their light, bright and beautifully white décor, the deluxe restaurant's contemporary and lavish furnishings are undeniably a contributing factor to the restaurant's appeal, to the city's wealthiest locals and visitors. Its striking glass-roofed atrium provides a romantic setting to enjoy a special dinner with a loved one. Recline in their high-backed chairs, as the evening twilight seeps in, to perfectly illuminate the striking dining area.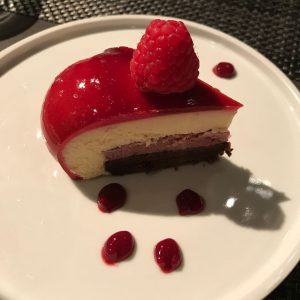 Whilst the aesthetics are reason alone to visit this cosmopolitan eatery, the sublime menu devised by Carme Ruscalleda guarantees an evening of unparalleled food excellence. Ruscalleda matches her gastronomy with the hotel's sophistication and glamour, to create dishes of the highest calibre and class. Her philosophy concentrates on prime local and seasonal produce, to create a menu that emphasises local flavours, but not to the extent whereby it alienates international clientele.
Blanc offers a range of menus, however we recommend opting for their seasonal menu, to sample a range of their spectacular dishes. At 59€ per head, you can expect a sensational six-course meal to enjoy the ultimate epicurean experience in the minimalist yet luxe interior of Blanc. Their winter menu boasts a sublime fusion of unique ingredients, from their eel, strawberry, daikon turnip and shiso starter to the braised octopus, smoked cheese and anticuchera sauce – consisting of a Peruvian pepper, renowned as the most expensive in the world. Their tempting selection of desserts are on par with their superb savoury dishes, and exhibited on a trolley for you to take your pick. Whether you prefer a dessert with a tropical twist of mango and coconut or chocolate decadence, there is a sweet treat on the trolley to satisfy all gourmets with a sweet tooth.
If you're seeking a fabulous dinner spot after a day spent browsing Passeig de Gràcia's designer boutiques, Blanc should be your first port of call.