When you arrive in Barcelona, your first instinct will be to dive into Barcelona's labyrinth of bars. But don't be fooled by the promoters on La Rambla or the appeal of commercial bars and clubs on the beach front, which will leave you with an empty wallet. Instead, we encourage you to explore Barcelona's more edgy, underground, and reasonably-priced bars (in summary, Barcelona's coolest non-touristy bars ). You'll end your trip in this city having truly lived like a local, with a new understanding of the word "chupito", and hopefully having tested your taste buds a little.
La Cigale

Carrer de Tordera, 50
Opening hours: 6pm-2am Tuesday to Thursday, 6pm-3am Friday and Saturday, 6pm-2am Sunday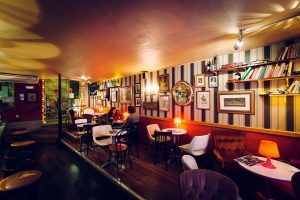 La Cigale's funky, dynamic atmosphere will catch your eye as you walk past. It's a small cocktail and tapas bar in Gracia, an area known for its hip, independent bars. It's fairly reasonably priced, with tapas ranging from around 4€ to 12€ and cocktails at 5.50€. Expect cosy sofas, air conditioning, local beer, WiFi, and an evening you won't easily forget. What's more, the waiters speak English and French, which is certainly an added bonus!
Berenjenal
Carrer de la Diputació, 215
Opening hours: 10pm-2.30am every day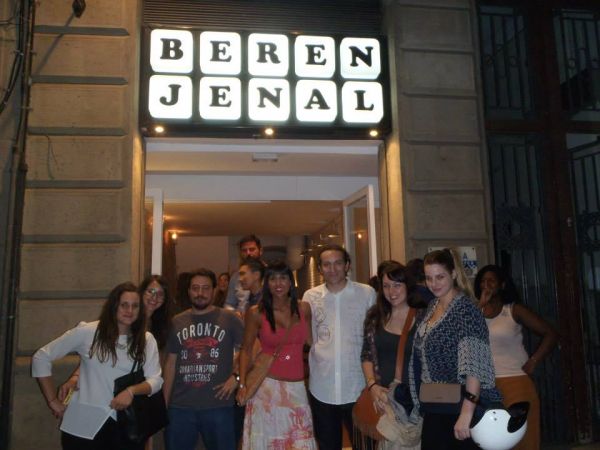 Berenjenal is perhaps the cheapest bar in the entire of Barcelona. With shots at 1€, mojitos at 3,50€ or 2,50€ for the mojito of the day, you're not going to find a better deal than here. A fan of mojitos myself, I have spent many a happy evening drinking down their generously-portioned beverages. My personal favourite was the coconut mojito, a Sunday special, but if you're a big fan of ginger, head to the bar on a Thursday. Don't be fooled by the bar's seemingly small size – it extends back quite far where there are lots of tables and even a place where you can dance to the constant stream of latino music that plays through its speakers.
Manchester Bar



Carrer de Milans, 5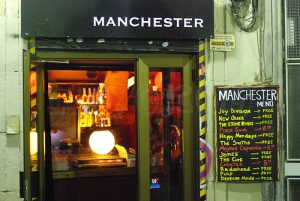 Opening hours: 7pm-2.30/3am every day
Manchester Bar is a super indie, young venue that acts as a tribute to the early rock artists such as David Bowie and Ian Curtis. The bar is nicely spacious, though if you're looking for something a little more cosy head to its twin in the Raval district. It serves your typical beer or mixed drink, but also has various drinks named after its music heroes.
Dow Jones
Carrer del Bruc, 97
Opening hours: 3pm-2.30am Monday to Thursday, 3pm-3am Friday, 11.30-3am Saturday, 11.30-2.30am Sunday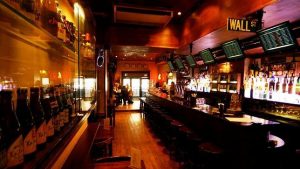 Set up just like Dow Jones on Wall Street, this bar prices drinks according to their "share value". It serves pretty much any drink you can imagine and over 100 different types of beer. This is a bar that definitely falls into the "cool" category rather than "non-touristy", so if you just want to check it but not get swept up by the crowd, it's probably best to go there before 10pm.
Raim



Carrer del Progrés, 48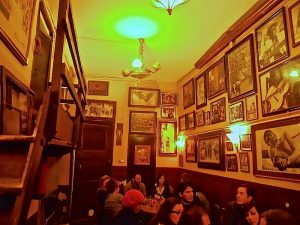 Opening hours: 8pm-2.30am every day
Another bar located in the Gracia district, Raim is a busy and bustling Cuban bar with a fantastic range of rum and a great mojito. One of the things you'll notice first about this place is the decoration; the walls are packed with old black and white pictures and an assortment of things relating to its founding year, 1886. If you're going with a bigger group you should definitely book in advance, otherwise be prepared to wait half an hour for a seat.
La Whiskería
Carrer Sitges, 3
Opening hours: 5pm-2.20am Monday to Thursday, 5pm-3am Friday and Saturday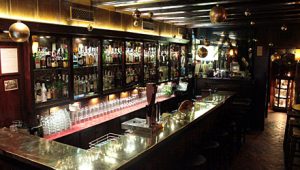 If you're looking for a more classic bar that serves traditional cocktails, head to La Whiskería. Formerly a whiskey museum, this tiny little place now stocks a whole range of spirits, serving both traditional and original cocktails. Be sure to try the blackieroska (a caipiroska with black vodka), the hot mojito with chilli pepper, and the melon mojito. Whats more, the guy who manages the bar is super friendly and has near perfect English, which can be helpful after you've had a few cocktails…
Nevermind
Carrer dels Tallers, 68
Opening hours: 5pm-2.30am Sunday to Thursday, 5pm-3am Friday and Saturday
Hidden away on the street filled with many of Barcelona's alternative and vintage stores, this bar fits right in. Aptly located in the skating capital of the world, this bar even has a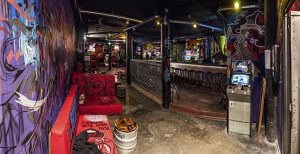 skate park inside, where you'll find tattooed 20-year-olds with stretched ears drinking beer and chatting with friends. It feels much like the ruin bars of Budapest and Berlin, though a little more alternative. Try one of their 3€ shots, such as the Cocaina Rusa or the After Eight, each uniquely named. The metal blaring through the speakers may become too much after a while, but it's worth going for the experience.
Espit Chupitos
Carrer d'Aribau, 77
Opening hours: 10.30pm-2.30am every day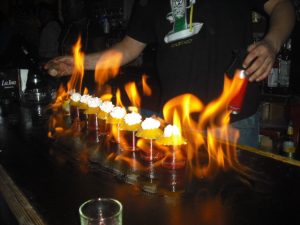 Though not unique to Barcelona, this bar simply had to have a mention in this article. It sells shots of all kinds for only 2€, ranging from "Kill Bill", which contains tequila and Tabasco sauce, to "Finding Nemo", which is about as sweet as a shot can be. Their menu listing over 600 shots covers nearly an entire wall, and though there is some guidance as to what each shot contains, you'll never know the exact ingredients. This bar has three spots in Barcelona centre, and it is not for the faint-hearted! Drinking here is perfect as a last stop before heading out to a club, but if you're looking for a slightly more chilled experience, go on a Sunday or Monday.
These bars should give you something of a head start in Barcelona, but do also see my other article on Carrer d'Avinyó and its bars, especially Aguelo. Happy drinking!