Just off La Rambla, you'll find one of Barcelona's oldest medieval streets. Although it may initially appear to be another touristic road of street wear and chains, walking down Avinyó's cobbles reveal it to be quite the opposite. Situated in the Gothic quarter, Carrer d'Avinyó is a hotspot for vintage and alternative clothing, and home to some lovely tapas bars and various hidden gems.
Transgression and revolution 

A brothel at number 44 was said to have inspired Picasso's Ladies of Avinyó, while No. 10 is rumoured to be the place where plans were hatched during the Spanish civil war.
The weird and wonderful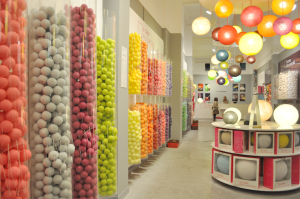 The street has quite a few specialist shops. At No 22 you'll see a shop entirely dedicated to lighting called La Casa de Cousin Paul.  At No 7 you'll find La Manual Alpargatera, a shop selling espadrille-style shoes in just about any colour and pattern you can imagine. At No 8 you'll see Hector, a shop filled to the roof with Italian-made leather shoes and accessories.
And if travelling to Barcelona wasn't cross-cultural enough for you, Tutem at No 28 will soon satisfy that. This shop will sell you almost anything you can imagine, from bracelets to coloured lanterns. A medium-sized leather bag will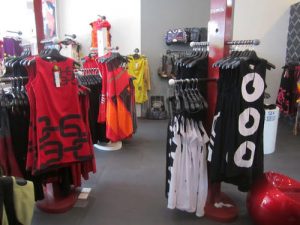 cost you around 60€. For the weird and wonderful take a trip to Pygmees at No 48, which sells clothing that could have been taken out of a 90s futuristic film; think Desigual but two steps further down the weird scale. You're looking at 50-60€ for a dress.
Vintage Galore
No 24 is a gorgeous vintage kilo sale called Flamingos Club with a bar at the back. It's hard to decide which made me more excited – the happy hour that lasts til 10pm or the fact that the staff wear roller skates. No 12 has a vintage shop with no name that sells 50s style dresses: polka dots galore. Wasabi at No 27 also sells vintage,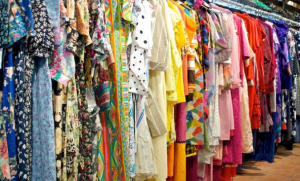 but even if you don't enter, it's definitely worth a glace at their window display, which is decorated with mannequins with paper animal heads. La Veintinueve at, surprise surprise, No 29, sells 50s dresses, swimsuits, and Mary Jane shoes.
No 25 is worth checking out for two reasons: well-priced retro clothing and love-themed food. What more could you want from Barcelona? 1 Acto is a cute little boutique selling rockabilly-style clothes and accessories with super-friendly helpful English-speaking staff. The pricing isn't too bad either. Next door is Venus, a tapas bar with love as its theme and a truly surreal window display of paper maché animals.
Street Food and Chic Food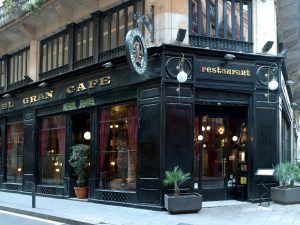 El Gran Café is perhaps the fanciest place you'll find that isn't connected to a hotel. It does live piano nights and tends to cater to a slightly older clientele than the likes of most bars and cafés in the Gothic quarter, but if you feel desperate for a taste of the high life, you can probably get away with "tapas" in the form of bread and olive oil for 1,90€. La Retama at No 47 is another slightly upmarket restaurant, along with Agüelo 013 at No 37, which serves tapas dishes large enough to be full-sized meals.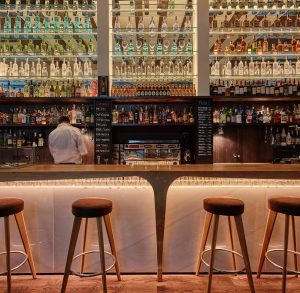 Its menu features a range of Spanish, Catalan, and International dishes. A personal favourite is the chorizo tapas dish paired with their Rioja, a wine called La Montesa.
And if you thought you couldn't get any more middle-class than eating humus, try the shop named after this popular dip. No 29 sells 100% organic 'sustainable wear'. I did not venture far enough inside to gauge the prices…
Carrer d'Avinyó, similarly to many of Barcelona's streets, will charm and enchant you into extending your stay in this vibrant, colourful city.