Boasting "deliciously different food tours", this family-owned business is nonpareil with its unique choice of eateries, less frequented by tourists. Indeed, this tour rather seeks to expose the gastronomic favourites of locals in Sant Antoni and Poble Sec – two neighbourhoods renowned for their distinct style and bohemian character. Yet, above all, these bodega laden districts pride themselves on their defined foodie culture, with their melange of cheap eats and gourmet restaurants.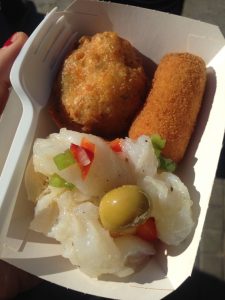 Barcelona Eat Local's quest to expose the city's finest culinary delicacies begins in a market much like the iconic La Boqueria, only larger and without the hoards of tourists. Quintessentially Catalan with its impressive array of local produce and welcoming facade featuring the Barcelona coat of arms, Sant Antoni market is the ideal site to kick off the food tour. Following a guided ramble around the market's colourful stalls, by the genuine and charming Andrea in our case, it's time to sample traditional tapas from the market's bacallaneria, carefully prepared with their Icelandic cod. If you're a lover of seafood and in pursuit of authenticity, their selection of hand-cut smoked products are simply unmissable. That, combined with their one hundred years of experience within this field certainly adheres to the notion of this tour: Barcelona eat local.
It's no secret that the Catalan food scene is next to none, with visitors flocking from all corners of the globe to sample its unmatched cuisine. That said, the region is equally renowned for its dedication to producing fine cava. After decades of taking the backseat to champagne, nowadays this delicate sparkling wine is proudly displayed in bodegas across the city. What's more, it is increasingly influencing the drinking habits of tourists whilst holidaying in Barcelona, showing the French who's boss! Indeed, the second stop of this tour is faultless in terms of its variation of superior wines and cava. Owned by three siblings, one of whom is the graphic designer behind their funky bottles, this shop is reminiscent of a creative art space which adds a certain no sé qué (our version of je ne sais quoi) to the experience. In fact, its modernity is somewhat deceptive, given the traditional production process of its cava stock, which is made entirely by the family themselves in the Penedès. In their tasting area, you will have the opportunity to enjoy a chilled glass of cava accompanied by delicious cheese from their in-house delicatessen.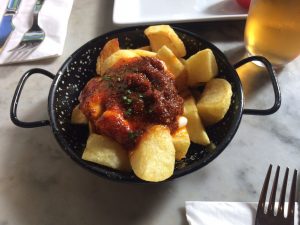 A gentle amble from Sant Antoni to Poble Sec will take you to the charming Plaça del Sortidor. This picturesque square is ideal if you crave temporary escapism from the hustle and bustle of the city, despite its proximity to the chaotic pintxos street, Carrer Blai. Moreover, it is home to the next restaurant of this tour – one of the oldest establishments in Barcelona. Its modernist decor bears no resemblance to its diverse menu, with each dish elegantly and flawlessly presented. However, it is their unique twist on Catalan staple dishes which makes this place a hit amongst locals. They truly master the craft of individuality with their union of two regional treasures – patatas bravas and romesco sauce. This sensational hybrid of roasted peppers, crunchy nuts and aioli drizzled over freshly cooked potatoes, seasoned to perfection, is a winning recipe. Your guide will also teach you how to prepare pan con tomate; a hands-on experience, in true Spanish fashion. These and several other unbeatable combinations are all of which you have to look forward to on your foodie journey with Barcelona Eat Local, and will undeniably satisfy all palettes.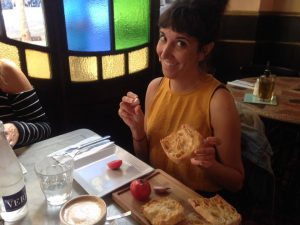 The neighbourhood of Paral·lel is perhaps most recognised for its captivating cabaret shows held at El Molino (think Moulin Rouge but Spanish), yet it also has plenty to offer in terms of food and drink. Amongst a myriad of quirky bistros and no-frill bars, there is one particular hidden gem, and it so happens to be the penultimate stop of this tour. This casual bar specialises in light tapas, from homemade patés to potatoes with jalapeño and rocket pesto – all of which lure its regulars back time and time again. Not to mention, their fine selection of wines are extremely popular, in addition to their vermouth, which acts as the perfect accompaniment to their assortment of understated yet scrumptious snacks. Whilst ordinarily you may drink this sweet aperitif in a martini, do not underestimate your ability to guzzle it straight – don't say we didn't warn you!
With your tastebuds fully satisfied, it's time to enjoy a glass of refreshing horchata. Originating from Valencia, this revitalising concoction is a delightful yet unusual blend of tiger nuts, water and sugar, and is customarily drank in the summer to cope with Spain's soaring temperatures. Whilst unfortunately the tour terminates here, on the upside, this cafe is rumoured to have the creamiest ice cream in town, so you can always get a scoop for the road – who cares, you're on holiday!
Grab a 10% discount with 'BCNCONNECT' when you book here: https://barcelonaeatlocal.com/tour/stantoni-poblesec-food-tour/