Barcelona to Seville is one of the most popular routes for tourists coming to Spain … something that doesn't surprise us… If you come to Spain you can't miss either of these two beautiful cities. It's true that they're two very different places, but that's where the magic lies! It's like visiting two totally different worlds. Without a doubt, a unique experience!
Afternoon tea might be a typically British indulgence but if you want a taste of home whilst visiting Seville, head to Hotel Casa 1800. Their selection of sandwiches, snacks and both hot and cold beverages is laid out every day between 4:30pm and 6:30pm, and is complimentary for hotel guests. Given the hotel's central location and proximity to the main city sites, afternoon tea is the perfect pit stop during a busy day of sightseeing, shopping and other tourist activities.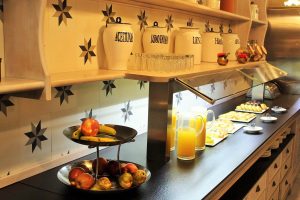 Hotel Casa 1800 is a boutique hotel set in the very heart of Seville's historic Santa Cruz neighbourhood (not unlike the narrow labyrinthine streets of Barcelona's Gothic Quarter). The building is a palatial, early 19th Century, private mansion and the hotel itself has retained as much of the original layout and adornments as possible, including the stairs, the tiled floors and most of the building plan layout. A central courtyard offers a cool and peaceful space in which to escape the heat and noise, traipsing round Seville's busy streets. It is within this tranquil area that afternoon tea can be enjoyed and your family be rejuvenated.
Take your pick from homemade sandwiches, including ham and cheese, delicate pastries and a colourful fruit bowl. Soft drinks and hot beverages are also provided, ensuring there is something for everyone – kids included. And with your family fuelled up on tasty goodies, you'll be set for another few hours exploring the stunning city before it's time for a Spanish dinner (usually taken around 10pm).
So for a break from jamón iberico and espinacas con garbanzos (spinach, chickpeas and oriental spices), Hotel Casa 1800 caters for your late afternoon, quintessentially English cravings in the most tourist-friendly way possible.