Many people utilise yoga for exercise, spiritual practices, and to improve mental discipline. Whilst these goals may be achieved in the comfort of your own living room, it is a refreshingly more immersive and rewarding experience to perform this ancient art on top of a mountain with breathtaking panoramic views of the Catalan countryside. The rare chance to reconnect with your body and the natural world over the course of a few hours is exactly what Venezuelan-born and world traveller, Antonio, offers with his Nature Yoga experience.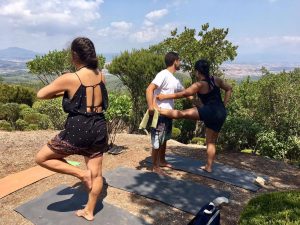 The city of Barcelona has many unique and enchanting qualities, one of which is its close proximity to the spectacular Serra de Collserola mountain range. Within a few minutes of walking you may find yourself transported from the concrete jungle of the Sarrià neighbourhood to the clean air and cool shade of the wooded mountain side – a cathartic experience to say the least!
Antonio is well acquainted with this area and will lead you along rustic paths and sandy trails, rarely disturbed by human visitors. Multiple opportunities offer themselves throughout the hike to take picturesque photos of the city sprawled below, and several times the group was awestruck into silent appreciation of the landscape. With the distant horizon blurred by a haze of traffic fumes, we were reminded, not for the first time, of the tranquillity and purity of our cleansing environment. In more ways than one, it was a relief to escape the chaotic, urban cacophony below, and revert back to a simpler and older time. The hike essentially provided the ideal mental preparation for entering the contemplative state of mind most conducive for the spiritual activity ahead of us.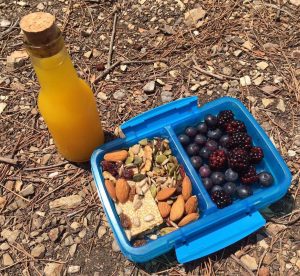 Sufficiently warmed-up, both physically and psychologically, Antonio revealed a pruned 'garden' near the summit of the precipice we had climbed. Yet more stunning views were in store for us here, this time looking north, inland, towards Montserrat – standing majestic in the distance. In this idyllic shrine to Gaia, the yoga mats were unrolled, and we began to limber up for our unforgettable education in the famous Indian discipline.
Antonio's remarkable skills as an instructor were soon revealed to us. Our maestro offered astute advice, and frequently adjusted our positions in order to truly feel each stretch. Although the group's experience varied from complete beginner to proficient, Antonio ensured that nobody was overly challenged or left wanting more. Rather, everyone was gently but firmly encouraged to push themselves, improve their ability and strengthen their weaknesses.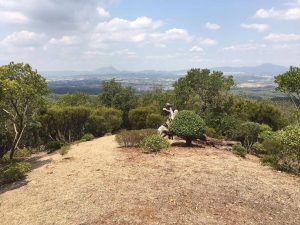 The lesson concluded with a meditative exercise, in an attempt to clear our minds completely (whilst resisting the temptation to fall asleep). Once fully revived, we found a rustic lunchbox of seeds, nuts, and berries laid out beside us, with freshly squeezed – and miraculously still chilled – homemade orange juice. Now that our stress and tension had been sufficiently purged, we began the descent at a leisurely pace. Antonio, the ultimate example of mellowness, had successfully maintained a laidback and calming atmosphere throughout the experience, and suffice to say we felt a great deal more content than we had that morning. We departed the group, comfortable in the knowledge that we had reacquainted ourselves with every part of our body and, furthermore, the exquisite natural world surrounding us.
http://pranadana.net/en/yoga-mountain-group-classes/