In a city dominated by overcrowded tourist traps, Windsor is an oasis of calm and refinement for those seeking haute gastronomy. Although the menu prides itself on traditional Catalan fare, this fine dining spot is certainly not a venue for a caña and mere patatas bravas. On the contrary, Windsor will treat you to a quality of cuisine, a calibre of service, and a superiority of decor of the very highest international standard.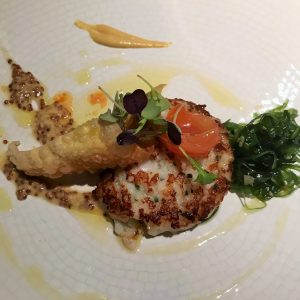 The trendy Eixample district is the home of Windsor restaurant, and the plush lobby and elegant seating area would be out of place anywhere else in Barcelona. A tasteful blend of old and new collude to present an avant garde, yet cozy and welcoming, environment for your dining pleasure. Opulent flora displays contrast well with the traditional white tablecloths and full-suited waiters, creating the ambience of a top hotel restaurant. The interior alone is impressive, but the outdoor terrace, complete with tropical plants and modern artwork, is a stunning and substantially more peaceful alternative to al fresco dining.
Windsor restaurant maintains the utmost respect for Catalonia's long and distinguished gastronomic history, but they are not afraid to reimagine and refine iconic regional recipes. As such, seafood dishes abound yet with unique and exquisite alterations. Take, for example, their delicate scallop burger, lightly flavoured with touches of mustard and embellished with a mini wakame salad; far exceeding an ordinary burger or scallop dish. Alternatively, try the delicately cooked monkfish with sea urchin cream and baby courgettes for a tasty and nutritious duo.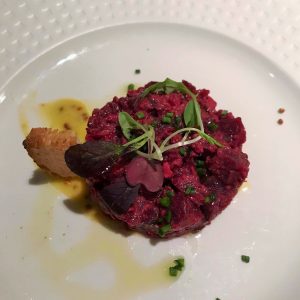 Game is another unusual speciality in Spain, which the kitchen at Windsor excel at. Try their saignant-style venison loin garnished with peppers and wild fruits to experience sensational flavours found only when rural delicacies meet expert culinary skills. Sweet berries from Maresme also feature strongly in their truly unmissable dessert: the rich and oozing chocolate coulant. Whether you are a health nut who rarely allows for 'cheat days' or a sweet toothed chocolate aficionado, this impossibly flavoursome finaliser is the only way to end your stay at Windsor.
Almost as important as the food itself, the staff of an establishment can help make or break a meal. But in the case of Windsor, this is not an area with room for improvement. Executed with the innocuous precision of clockwork, the service at Windsor is a triumph in itself, as plates and cutlery are whisked away with inconspicuous rigor. On the other hand, the exemplary presentation of each serving speaks volumes to the aesthetic eye and adept hands of the chefs.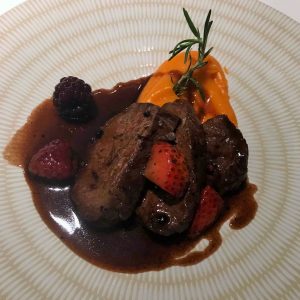 Overall Windsor restaurant is an experience of unparalleled food and immaculate surroundings. Whether you have a special occasion to mark, a group where you want to please your peers, or a romantic night planned with your loved one, Windsor should always be your first choice.