The future of gaming
Most people's idea of an arcade involves screaming kids, chunky consoles with flashing lights, and scrabbling on sticky floors for dropped coins (or was that just me?) Childhood nostalgia aside, Virtual Playground Barcelona has turned these preconceptions on their head by opening Barcelona's latest 'virtual arcade' entirely consisting of virtual reality (VR) games.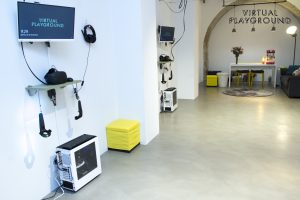 The venue

It is easy to find and very central, nestled between La Rambla and Plaça Nova square in the Gothic area. The building itself has a wide glass front that opens out onto the street so you can entertain passers-by as you grapple with the very latest in VR technology.
Virtual Playground is essentially an open room, with four screens on the walls and four consoles with HTC Vive VR headsets and hand-held controllers attached to each of these. The consoles contain around twenty different games, thirteen of which are currently available to choose from. The games themselves vary in style of play and general theme, but all have the ability to totally immerse the player in an alternative reality.
The games on offer
Indeed, once the comfortable visor is on and the simple controls of the hand remotes have been explained, it is shockingly easy to forget you are standing in a shopfront of the Gothic
quarter and instead believe you are battling the Empire's forces in the Star Wars simulator Trial of Tatooine or rummaging through a wizard's treasure trove in one of Virtual Playground's most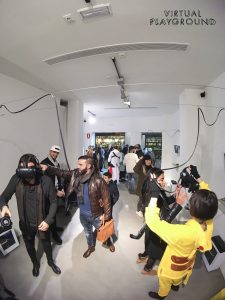 interactive games: Waltz of the Wizard. Perhaps the most surreal experience of all is a game in which you must walk along a plank on top of a skyscraper, pick up an object – usually a cake, although there is also a spider option for the masochists who want to confront two phobias in one go – and walk back along the plank trying not to topple off. For people who suffer from vertigo, this experience can be terrifying! Of course, if you do "fall" off the plank, nothing actually happens to you physically, but it requires a significant amount of rationalising to convince your own brain that you are not really 400 meters above a city.
All the games are equally entertaining for those not participating as they can enjoy watching their friends evade invisible obstacles and lash out at unseen enemies. Everything the player can see through their visor can also be observed on the accompanying screen, so you can gain an insight into the worlds your friends have entered. But no screen can possibly prepare you for the captivating experience of VR which positively takes over all your senses.
Multiplayer co-operability
Yet another awesome feature of Virtual Playground is the opportunity to play in multiplayer. Certain games have the option for you and your friends to play simultaneously in the same world and therefore allow you to see them move and react to stimulus in real-time. Serious Sam VR for example, allows you and a trusted friend to battle a host of aliens and monsters with a whole armoury of weaponry together, with each wave of enemies necessitating teamwork as well as sharpshooting. If you are more competitive however, there are also games in which you compete against each other in races, obstacle courses and even archery.
Accommodating for everyone
Most people have never tried VR technology before but the friendly staff are ready to show you the ropes and get you started. They can recommend the easier games and gradually work up to the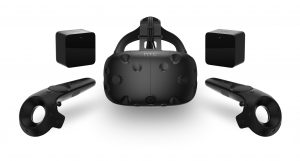 more challenging software, or you can opt to plunge in at the deep end – it's completely up to you, and the staff will accommodate for whatever your preferences. There really is nothing quite like Virtual Playground and the sophistication of the technology and broad range of games to play makes this the perfect excuse to forego the beach and sunshine for an hour or two and lose yourself in a pixelated artificial universe.
Carrer de Pi 11,
Barrio Gotico,
Barcelona. 08002
http://thevrplayground.com/