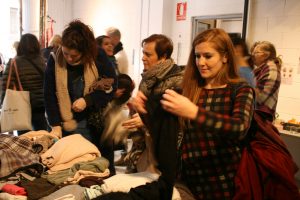 Is your wardrobe bulging out of control but you're still asking yourself what to wear? How many times have you gone to put on those patterned trousers that are a little bit "out there" only to change back into the same blue jeans that you've been wearing for the past three years? When was the last time that you lost enough weight to squeeze back into that dress that's been living at the top of your wardrobe telling yourself that you'll fit into it someday?
If you can relate to any of the above, the Vermut & Wardrobe Restart Barcelona event is for you. Vermut & Wardrobe Restart Barcelona is a second-hand clothing pop up store with a difference- you swap instead of shop. Attendees bring items of clothing that they no longer wear but are still in good enough condition to continue their life elsewhere, and swap them for new pieces brought by their fellow shoppers. There are no strict rules, only that you bring at least one piece to swap.
Vermut & Wardrobe Restart Barcelona was set up by Luīze in 2016 after she discovered the shocking reality of "fast fashion," particularly 'planned obsolescence': designing clothes with a deliberately short shelf life. We are all guilty when it comes to fast fashion, and our wardrobes remain full of pieces that we no longer wear, even some with the tags still left on!
At the end of each event, Luīze sorts through the remaining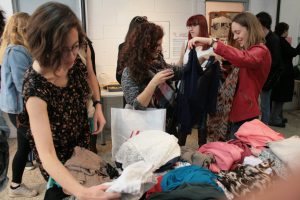 clothes and separates them into three categories. The pieces that are still in great condition and made from good materials are put into a "seed" suitcase for the next swap, whereas those unwearable and unfortunately too worn, are recycled locally. Any pieces that fall somewhere inbetween, Luīze donates to a local charity who run a 'free shop'- although she also tells me that they are beginning to reject some of her donations due to the sheer quantity of clothing that they have received as a consequence of society's fast fashion fads…
If you want to join Luīze in the fight against fast fashion, take part in the next edition of Vermut & Wardrobe Restart which will be held on the 14th September. For more details about the event, visit the official facebook page.