Newcomer to the burgeoning Barcelona restaurant scene, Valmas is most conspicuous for two qualities: the exceptional presentation of their cuisine, and the absence of a menu. With former Top Chef contestant Melissa Herrera at the helm, magnificent gastronomic aesthetics come as no surprise. If that isn't enough to convince you to visit, Valmas's menu-less concept remains an intriguing enigma. Try the Eixample-based restaurant to experience Instagram-worthy tapas with a twist.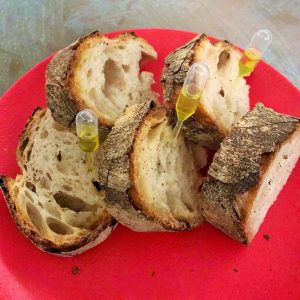 Like many venues in the Catalan capital, an unassuming exterior hides a carefully designed, cosy interior. Rustic rock walls are offset by contemporary artwork and plants decorated with fairy lights, which provide a romantic, twilight ambience. The dining area is separated into semi-separated sections by dividing walls which add to the intimacy of the setting. Once seated however, instead of choosing what to eat, everyone is treated to Herrera's daily tasting menu – a multi-course selection, heavily dependant upon what products are sourced from the local market that day. Simply inform your waiter of any dietary requirements and wait for each surprise to arrive at leisure.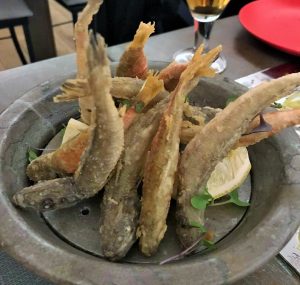 Traditional Mediterranean recipes are at the foundation of Valmas' cuisine, but each one is heavily influenced by Herrera's creativity. Even the crusty bread accompaniment, a staple of every Continental meal, arrives with miniature pipettes for depositing olive oil. Seafood features strongly throughout the meal, and includes raw dishes such as salmon tataki with delicate garnishing and violet decorations. Clams, steamed and then served in an onion-based soup, is another main course already popular with locals and tourists alike. Herrera also demonstrates her cheffing proficiency with her lightly seared beef steaks, which are served in a mysterious black box with sauteed mushroom caps.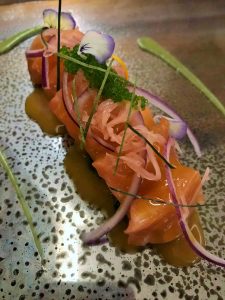 For visitors to Barcelona, Valmas is worth you venturing away from the tourist-orientated heart of the city to the beautiful Eixample district for either dinner or lunch. The appearance of the food is sublime, and each course provides unmissable photo opportunities. Moreover, the trust you place in the chef by allowing her to design your meal adds a unique dynamic that breaks the boundaries of traditional dining.