For anyone who had plans to visit Barcelona, this article is for you! Due to the Coronavirus, many visits to Barcelona had to be cancelled. Therefore, many people have to miss out on eating typical Catalan dishes. But you need not worry, because we will help you! Today we will show you which typical Catalan dishes you can make at home by yourself- they're easy to do! This way you can create a little bit of Catalan culture in your own kitchen.
Pa amb Tomàquet
To start off your very own catalan meal, Pa amb Tomàquet is a great dish to start with. It is one of the easiest and most delicious Catalan starters. As the translation says, this dish consists mainly of bread and tomatoes.
Ingredients:
Bread

Tomatoes

Olive oil

Salt and Pepper

Garlic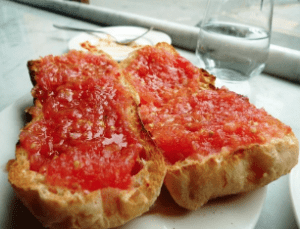 In order to make an authentic Pa amb Tomàquet, it is important to toast the bread in the oven. Make sure the oven is hot enough, and the bread should be placed nice and close to the heat. This way, the bread will be toasted much faster. Once the bread is nicely toasted, slice a tomato in half. Then you start grating the tomato into a purée-like texture. You can season the tomato to your own taste, and in order to add a little bit more flavour you can rub a clove of garlic on the toasted bread. Before you put the grated tomato on your bread, make sure you add a splash of olive oil on there as well. Bon appetit!
Bacalao with Samfaina
Catalonia is well known for its amazing seafood recipes. One of the most popular seafood recipes is Bacalao with Samfaina. It basically is a pan-baked cod fish in combination with a delicious tomato-based sauce! It truly is a classic in the Catalan cuisine, and it's great to try this out at home.
Ingredients:
4 fillets of salt cod, 7oz each, (desalinated, pin bones removed)
1 medium-large eggplant (diced)
1 medium red pepper (diced)
1 medium green pepper (diced)
4 cups whole, peeled tomatoes (fresh or canned)
Before cooking the cod in the pan, make sure that you cover it in flour. This will help the fish to brown nicely, and it will make sure the fish doesn't stick to the pan. Once the cod is beautifully browned, you will start to cook the vegetables. In order to maintain the texture of the vegetables, it's best to cook them separated. Once all the vegetables are cooked, you can mix them in the pan again and you can add a splash of the wine. Once the wine is almost completely evaporated, add the peeled tomatoes whole and then crush them with a spoon. Wait until the sauce has thickened, and your main course is ready to be eaten!
Churros
You simply cannot assemble a typical Catalan dinner, and not incorporate some Churros! For anyone who has a sweet tooth it is a great recommendation. Churros can be eaten in several combinations. For instance, you can eat them in combination with chocolate, caramel or just simply in combination with sugar!
Ingredients: 
Water

Flour

Baking powder

Salt

Olive oil
The hardest part of making the churros is making the dough. You create the dough with hot water, flour, baking powder and olive oil. It is important to let the dough sit for a few minutes after kneading it. Then you put all the dough into a pastry sleeve and you simply cut the dough into pieces before throwing it into the olive oil in the pan for them to fry. When the churros are nicely golden and brown, take them out and let them cool off. Then you can make your choice whether you like to eat yours with chocolate, caramel or sugar. Enjoy!