Travelling from both Barcelona Airport and Girona Airport to Barcelona city centre is easy. Our guide below will explain the different public transport options that will take you to your destination in Barcelona.
Barcelona Airport
Barcelona's El Prat International Airport is located in the city outskirts, in the district of El Prat de Llobregat. It is close to Barcelona and very well connected.  Make sure you know whether you are arriving in Terminal 1 or Terminal 2.
Barcelona Airport By Train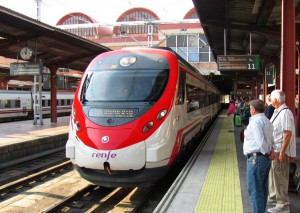 Renfe trains depart every 30 minutes from the airport station Barcelona El Prat Terminal 2. If you arrive in Terminal 1, take the shuttle bus which connects the terminals.
The airport station is in Zone 1 of Barcelona's integrated public transport network, so you can either get a single ticket or a T10 pass which is valid for 10 trips on any Barcelona metro, bus or train.  The train stops at Sants, Passeig de Gràcia and Clot, which all connect with the metro and buses; check which is closest to your destination.
This is a great option for those who are looking to save some money on airport transfers and feel comfortable using public transport.
Barcelona Airport by Aerobus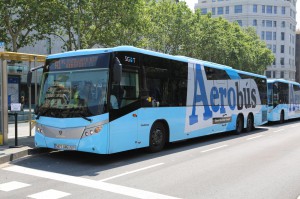 The Aerobús is another convenient option for travelling to and from  Barcelona El Prat Airport and Barcelona city centre, with stops in Plaça Espanya, Plaça Universidad and Plaça Catalunya. The journey takes approximately 30 minutes and the service runs every 5-10 minutes. Buses depart from both Terminal 1 and Terminal 2, so make sure you know which terminal you are flying from.
The easiest way is to buy tickets online. You can alse purchase tickets from airport vending machines (cash or credit card) or you can pay the bus driver directly (cash only). A one way ticket costs 5,90€ and a return costs 10,20€.
You can find more information on the Aerobús stops and timetables on their website. 
Barcelona Airport By Taxi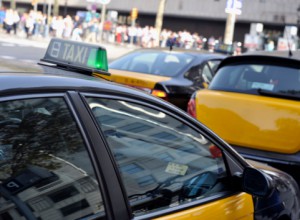 Getting a taxi is probably the most convenient way of getting to and from Barcelona El Prat International airport. Taxis from the airport can be found at the airport taxi rank, which is located outside each terminal. You can expect to pay around 30€ one way but of course it depends on your precise destination and traffic. It's a great option for those who would like to get to their destination fast.  Alternatively, you can pre-book a taxi by calling (+34) 933 033 033
Barcelona Airport By Private Transfer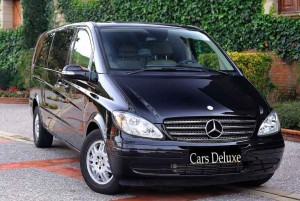 If comfort and luxury is more your thing, you may want to get private transfer to or from the airport. A private transfer offers speed, comfort and total relaxation. This is a good option for those travelling in large groups who cannot fit in a taxi. The price for a private transfer varies, and we recommend CarsDeluxe for an good value transfer service with multi-lingual drivers.
Getting from Girona Airport To Barcelona
If you are flying into Girona Airport rather than El Prat, don't worry! Girona airport is also pretty well connected with the Barcelona city centre. There is a bus service that connects Girona Airport with Barcelona Estación Nord (next to Arc de Triomf metro). This costs 16€ one way and 25€ return. These buses are timed with flight arrivals and departures so make sure you don't miss your bus, as you can expect to pay around 120€ for a taxi!