Barcelona has many things to offer: architecture, gastronomic experiences, museums, nightlife, and also great hiking. There are many breathtaking trails right here in Barcelona and some hidden gems outside the city. Explore all that Barcelona has to offer by taking a hike to the top of one of Barcelona's surrounding mountains and gaze upon one of the best views of the city. Discover the best hiking trails in Barcelona!
Top 5 hiking trails in Barcelona:
If you are looking to hike without leaving the city Tibidabo is the most popular spot. You will find a trail up the mountain and once you reach the top you will be rewarded with an amusement park. You can also visit one of Barcelona's famous churches, Temple Expiatori del Sagrat Cor.
One of our top hiking trails in Barcelona is the Collserola Park. This is the perfect spot for hikers who are trying to avoid big crowds of tourists. Many local families come here on the weekends to hike, ride bikes, birdwatch, or eat at one of the restaurants. Hike by grasslands and waterfalls and eventually you will end up by the coastline where you can witness a mesmerizing view. You can also see one of the towers built for the Olympic games with a hike up the Vilana hill.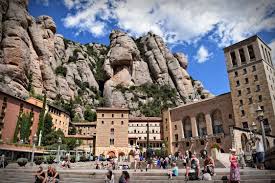 If you want to venture outside the city one of the most beautiful hiking spots is only an hour train ride away. Montserrat is very easy to get to from Plaza España and is sure to be a trip you will not regret. Hike around the mountain range and then enjoy a picnic with a view. You can find trails here for both advanced and beginner hikers as well as many other activities. Montserrat features a monastery, a winery, and a basilica where you can experience the healing powers of the Black Madonna.
Close to the Sitges coast 30 minutes outside of Barcelona is Parc del Garraf. Hike or ride bikes on one of the trails or participate in a guided tour. After your hike visit the monastery or the ancient castle ruins of Campdásens. Take in the Tibetan history and architecture while taking a yoga class or participating in guided meditation. You can spend the entire day here or just a few hours, one thing is for sure, you will not run out of things to do!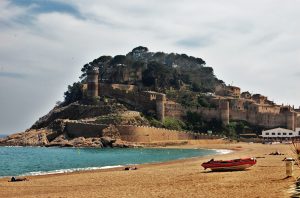 If you are looking to get out of the city for a weekend hiking trip then Costa Brava is the place to go. Hike around the coast of the Girona Pyrenees and then relax on one of the sand beaches. Cala Llevadors in Tossa de Mar is the best path for hikers. It starts at the cove of Llevador and goes to the beach of Codolar. On this hike you will be able to see stunning panoramic views of the city. Kayaking part of this route is also an option for those who want to be on the water.