While traveling through Barcelona, you don't need to break your bank in order to enjoy some good meals. These 4 lunch spots under 5 euros will keep your stomachs and your wallets full:
Mendizabal
This little sandwich bar may look like a hole in the wall, but the food is nothing short of delicious. Located just behind La Boquería, Mendizabal is the perfect place to either grab a sandwich to take away or to sit down and enjoy a cool beer with friends. With over twenty options to choose from, carnivores and vegetarians alike will not be disappointed with this little sandwich shack.
Location: Carrer de la Junta de Comerç, 2 in El Raval. Nearest Metro: Liceu
Mercat de la Boqueria

Although this isn't exactly a sit-down restaurant, La Boquería market located off La Rambla is the perfect spot to grab an empenada, some fresh fruit, and juice for under 5 euro.
Location: La Rambla, 91 in El Raval. Nearest Metro: Liceu
Bo de B
For quite an affordable price, you can get one of these sandwiches to take to the beach or to eat on the way to your next destination. The best part is, these sandwiches are the size of your forearm and are packed full of fresh ingredients assembled right in front of you. Although the line may be long, it's certainly worth the wait!
Location: Carrer de la Fusteria, 14 in Barri Gòtic. Nearest Metro: Barceloneta
Cervecería 100 Montaditos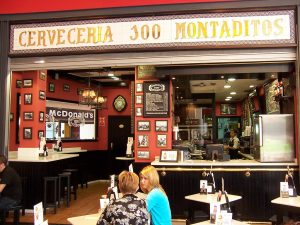 Cervecería 100 Montaditos have nothing on the menu over 2 euro, so you can't go wrong with this tapas chain. On Wednesdays and Sundays they have "euromania," where everything is just a euro. With multiple locations throughout Barcelona, this is the perfect spot for a quick respite during a day of sightseeing and, with no dubt, on of the best restaurants in our top 4 lunch spots under 5 euros!