The snowy peaks of the Pyrenees mountains extend into Catalonia, France and Andorra. There are several excellent ski resorts near Barcelona which can easily be reached for a day trip or longer holiday.  Whether it's skiing, snowboarding, big-foot or sledging, you can enjoy it all at these easily accessible spots near Barcelona.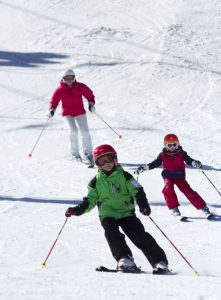 Vall de Nuria: easily accessible by train
The valley of Vall de Nuria comes down from the crest of the Pyrenees in the province of Girona, and is one of the most popular ski resorts near Barcelona. This is a haven that you can escape to all year round, and in winter it is more than equipped for a great skiing holiday. It has a total of 11 alpine ski slopes: 3 green, 3 blue, 3 red and 2 black. Although there is no road access to the valley it's easy to reach by train, so is perfect for a day trip. It has great facilities for beginners, pros and families, including a ski school, equipment hire, snow parks and medical services.
Non-skiers can enjoy the snow with activities like cross country skiing, sledging and snowshoe outings.
Get the train from Barcelona Sants to Ribes de Freser, then rack rail (cremallera) to the slopes of Vall de Nuria. You can also get there by bus.
www.valldenuria.com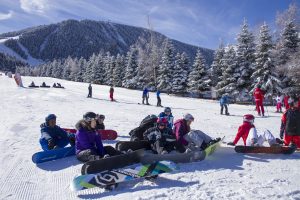 La Molina: Spain's oldest ski resort
Another of the most popular ski resorts near Barcelona, La Molina is reputed to be the oldest resort in Spain, and is the closest to Barcelona. It is divided into 4 different ski areas, with a total of 53 pistes of different levels from green to black and 16 lifts. There is a self-timing kilometre speed run for those up to the challenge, and any boarder who has mastered the "staying upright" technique can show of their skills and tricks at the Snow Park 100m superpipe. Much entertainment is also guaranteed for the onlookers. Other activities on offer include alpine skiing, husky sledging and circuit sledging.
A direct train goes from Sants to La Molina, and a connecting bus takes you to the slopes. The bus company Sagales also run a service which combines transport and ski pass.
www.lamolina.com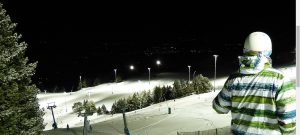 Masella: Night skiing on illuminated pistes
The ski resort of Masella, near La Molina has 64 pistes covering 74km of slopes. These include 9 green super-easy slopes, 9 black slopes for the brave and foolish, and the rest are inbetween.
There are also several bars by the slopes where you can get freshly made sandwiches and quick snacks to maximise your ski time!
Thirteen of the pistes are illuminated at night, which allows the breathtaking experience of skiing under the stars. They are connected by 7 ski lifts. Masella has the most extensive night skiing facilities in the Pyrenees, and separate ski passes are available for those who wish to turn up later in the day.
www.masella.com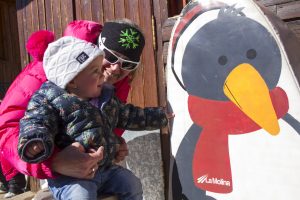 Ski tips!
1. Equipment rental
Prices generally start from 20€/day to rent skis, poles and boots for adults, and 26€ for snowboarders.
2. Learn the basics at the ski school
All these resorts have a ski and snowboard school which offers everything from one-off private classes to larger group classes spread over several days.
3. Lockers
All resorts offer secure lockers awhere you can leave your belongings. These can also be rented for the season, for the convenience of regular skiers.
4. Kids Area
If you're planning an outing with the little ones, check out the fun areas for kids, which include mini-snow parks and other activities which can be found in all of the main ski resorts near Barcelona.
5. Come prepared!
Make sure you bring all the ski essentials, such as sunscreen, sunglasses, and a warm woolly hat. Everything can be bought on site, but it's much more expensive.