Still unsure about how to spend your Valentines weekend in Barcelona? We've got some suggestions to make the weekend extra special, from the best restaurants, romantic activities and unique gifts. A long weekend calls for only the best of what the city has to offer, with some alternative ideas avoiding the typical touristy spots these tips will help create the perfect romantic holiday. So pack your suitcase to live in first person, each of the best Valentine's day plans in Barcelona.
Best Valentine's Day Plans in Barcelona

1. Erotic Museum
Offering an insight into the past and present influence of eroticism, the museum takes you on a passionate adventure exploring the history of eroticism within different societies, that you can enjoy together.
With collections ranging from Kama Sutra, Oriental Eroticism and Ancient Civilisations, the museum promises to be an eye opening experience of human sexuality throughout different cultures and historic periods.
La Rambla 96 
2. The Urban Massage



What better Valentine´s day plans in Barcelona than getting a nice relaxing massage as a couple while you take in one of the best panoramic views of Barcelona from the sky? The truth is that this plan is very hard to beat and your partner will love the surprise! If what you are looking for is a romantic environment and relaxing to forget all your January worries and reach, this is your place. 

3. Aqua Urban Spa
If relaxation is at the top of the agenda, why not treat yourself to one of over 20 different treatments Aqua Urban Spa has to offer, ranging from aesthetic body treatments too hydrotherapy techniques. Best of all the Spa is located on the center of Barcelona making it an easy pit stop in your weekend away.
Gran de Gracia, 7, 08012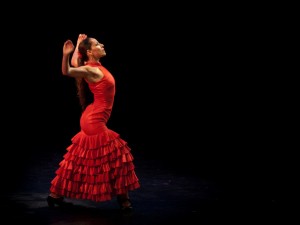 4. Flamenco Dancing

To experience a truly authentic weekend in Barcelona, a Flamenco show is probably essential. The simply stunning Palau De La Musica concert venue is the perfect backdrop to experience some popular flamenco shows. The venue holds both Gran Gala Flamenco and Flamenco and Opera, both emotive and energetic shows emerging you in Spanish culture and with tickets starting from just €20 this unique Spanish experience wont break the bank.
C/ Palau de la Música, 4-6, 08003
5. Bunkers del Carmel

Offering the best views of the whole city, the Bunkers remains authentic without renovation, and offers the perfect romantic spot to watch the sunset over the beautiful city. A completely free yet unmissable experience and you can even take your own picnic up there too. One of the best valentine's day plans in Barcelona!
Carrer del Turó de la Rovira
Where to Eat…

6. Elsa y Fred
Located in the quiet area of El Born this restaurant provides the perfect cozy and somewhat Parisian setting for a romantic evening for two. Elsa y Fred experiments with their dishes, conjoining classic tapas dishes and creative cuisine with superb presentation.
Carrer del Rec Comtal, 11
7.

Enoteca
If you want your weekend to be lavish and extraordinary visit Chef Paco Perez Michelin star restaurant overlooking the marina. Expect Catalan avant-garde cuisine and incredible flavors, although a little pricey, you will indefinitely not be disappointed.
Marina, 19-21 08003
9- Carpe Diem Lounge Club
One of the most romantic and intimate restaurants to celebrate Valentine´s day plans in Barcelona is this marvellous place with views of the sea. In Carpe Diem there is always an aura of romance in the air and in its infused Asian and Indian food that will transport you both to new cultures. Undoubtedly, a perfect place to have a romantic and private soiree with your partner, in the same way that the couple of actors Javier Bardem and Penélope Cruz experienced a few years ago.
That Something Special…



9. Flowers



Not only is La Rambla the most famous street in Barcelona it is also home to many florists, lining the central reservation with amazing colours and smells. With 15 different flower stalls, the famous florists of La Rambla provide you with the chance to pick out that perfect bouquet.
La Rambla


10. Papabubble

The relatively new Papabubble store creates beautiful artisanal candy, ideal for those with a sweet tooth. At Papabubble you can expect weird and wonderful flavours of candy both beautifully packaged and intricately crafted. You can start with a simple candy mix, which lets you try all the flavours: a citric mix for tangy tastebuds or a chocolate mix for the chocoholic! To make the gift that little bit more special you can get your candy personalised with any name, date, picture or initials, what better way to show your love.
Carrer Ample, 28, 08002
11. Wine Tasting



If you're an avid lover of wine, Barcelona somewhere you can enjoy great wine in all the bars and restaurants but you wanted something that little bit more memorable, why not try Castlexperience's wine and tapas tour. Surrounded by beautiful landscapes this short yet fulfilling tour is perfect if you are only in Barcelona for a short amount of time and want to escape the hustle and bustle of the city for a quite afternoon, whilst learning everything there is to know about wine. With everything from a professional guide, to entrance to the seller included in the adult ticket price of €74.95, this gift is bound to blow their socks off!
www.castlexperience.com