We're sharing some of our favourite summer spots in this exclusive insider guide to the bars with the best terraces in Barcelona. Many of them are rooftops, such as the hotel rooftop bars that offer a relaxing moment for only a few extra euros.  You'll find amazing views, live music, swimming pools and nice cocktails… there's no better way to escape the crowds, smells and noise of the city centre.
There are also restaurants and bars 'at sea level' with great terraces too. Here's the run down of  our top 10 terraces in the Catalan capital.
1881 by SAGARDI – la terraza de las Indianas 
This beautiful bar is located on the rooftop of the Museum of History of Catalonia. It is a Mediterranean restaurant and bar with a nice terrace that offers a unique view of Barcelona Port Vell and skyline.
Public access: Tues-Saturday 10am – 7pm; Wed 10am – 8pm; Sun 10am – 2.30pm
Plaça de Pau Vila, 3
2. 360° Terrace at Barceló Raval
Barceló Raval hotel's terrace offers a magnificent panoramic view 360º of Barcelona. There is a select menu of mixed drinks, shots, cocktails, Cavas and Champagnes that you can enjoy next to the small pool. People often don't dare to approach luxury hotel terraces and believe it they're off limits. But they're not!
Address: Rambla del Raval, 17-21
Public access: Mon-Fri 6pm – 12am; Sat-Sun 6pm – 1am
3. Sky Bar at Grand hotel central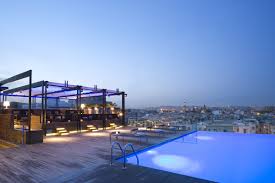 This has one of the best views of Barcelona. Aside from the impressive views, you won't be disappointed by its wonderful pool either. Limited public access is from 8pm and the establishment has started taking reservations.
Prices: Beer €3, glass of wine €4, cocktail €10
Public access: Mar-Oct daily 8.30pm –  1am
Address: Via Laietana, 30
4. H10 Hotels
With 12 H10 Hotels in Barcelona, you're spoilt for choice. In Marina, Universitat, Port Vell, Urquinaona, Montcada in Vía Laietana… all of them offer great views of the Catalan capital.
We recommend the H10 Marina Barcelona. Located in Villa Olímpica and close to the beaches, you'll appreciate its Skyline Terrace and swimming pool.
Booking is recommended. See more about the opening hours of each hotel here.
With its rooftop bar, pool area and views across the port, it is worth a visit for non-guests. They serve drinks, cocktails and dishes to share, and also a lunch and dinner menu created by the Michelin-Starred Chef Marc Gascons.
The cocktail bar is opened all day and there are live DJ Sessions on weekends.
Public access: Daily 8am – 1am
Passeig de Colom, 9
6. Wet Bar at W Barcelona 
Although it is a bit expensive and a lot of the seating might be reserved for hotel guests, the best view of the beach is from the Wet Bar terrace. Every Sunday until 21 August, the W Hotel organises the legendary Wet Deck sessions. It's really posh and you'll need your your finest eveningwear, but the view is worth it! See more here, register and spend a quality Sunday night with great DJ, an amazing view and the sea.
Prices: Beer €6 Cocktails €16
Public access: Daily 10am – 2am
Pl. Rosa del Vents 1.
This little restaurant offers fine cuisine, with top-quality tapas and dishes at affordable prices. Its interior terrace is spectacular, perfect for these warm summer nights.
Opening hours: Tue-Sat 1.30pm – 3.30pm; 8.30pm – 11pm / Sun 1.30pm – 3.30pm
Major de Sarrià, 134, Sarrià-Sant Gervasi
8. C3BAR at CCCB 
C3BAR is the café-restaurant of the Centre de Cultura Contemporànica de Barcelona (CCCB). The outdoor terrace is located in the beautiful and peaceful square of Plaça Joan Corminas.
Public access: Mon-Fri 9am – 9pm; Sat-Sun 11am – 9pm
Montalegre, 5, Ciutat Vella
9. La Isabela at Hotel 1898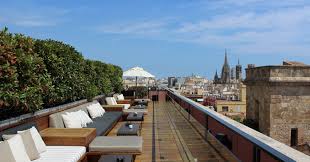 Come and soak in a breath-taking 360-degree view over Barcelona. Located on La Rambla, La Isabela is the stylish terrace on the roof of Hotel 1898 and is an ideal spot to relax, have a dinner or just a few drinks. This is an elegant area with an outdoor pool, from which you'll discover Barcelona from another point of view. We highly recommend you make a reservation since La Isabela is really popular.
Prices: cocktails starting from €12.50
Public access: Jun daily 1pm – 12am; Jul-Sep daily 1pm – 2am; Oct daily 1pm – 9am
La Rambla, 109, Ciutat Vella
10. Terrat at Mandarin Oriental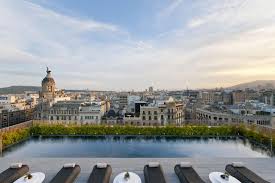 Terrat also offers incredible 360 views of the city. Relax and enjoy sunset in Barcelona next to its pool while drinking a delicious cocktail or eating a meal created by celebrity Peruvian chef Gastón Acurio.
Public access: Sun-Thur 1pm – 12am; Fri-Sat 1pm – 1am
Passeig de Gràcia, 38-40