A short train ride to the north west of Barcelona you can find breathtaking natural beauty. Endless fields of vineyards, punctuated by little market towns, all lie in the shadow of the immense Montserrat mountain. In this incredible setting, artist Marta Arañó has her studio and project, Tinta i Vi, where you can learn how to paint using the local speciality: wine.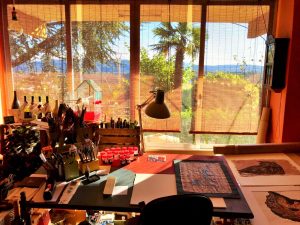 Sant Esteve Sesrovires is where Marta Arañó calls home and her studio is perched atop one of the highest hills in the town. From this magnificent vantage point, the ancient winemaking region of the Penedès can be seen stretching into the distance and with all those vineyards in sight, it's no surprise that Marta chooses wine as her primary medium.
Whether you are schooled in the techniques of the Parisian masters or haven't picked up a brush since school, everyone is a newcomer when it comes to painting with wine. The tools, the colours, the technique, everything is different than with paint, but luckily Marta is enthusiastic to pass on her skills. She will show you how non-alcoholic wines produce darker tones and teach you how to blur the colours together to create depth and shadow. Her workshops are offered to children as young as 4, and may be booked as a family package.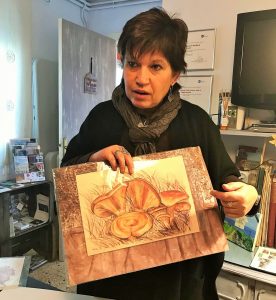 To truly receive the full experience, it would help if you have some Spanish (or even better, Catalan!), as the workshops are held in Marta's native languages. But even if no hablas español, you can still enjoy the beautiful studio and participate in the painting itself. Wine, cava and Spanish snacks are served to painters during the workshop to help stimulate creativity and if there's anything that can facilitate communication it's food and drink!
As anyone who has spilt red wine knows, it stains and it dries quickly. As such, your creations will be ready to take home with you immediately after the workshop. Impress your loved ones with your unique masterpieces and explain how you tried painting with wine – in every sense of the phrase!