Everyone needs money.  It's a simple fact of life: money is the thing that helps us survive, and live in today's society.  And while some people may spend that money more frequently, everybody loves to save money wherever they can.  Luckily for those of you who are coming to Barcelona, you can do exactly that through its tax free shopping.
Did You Say Tax Free?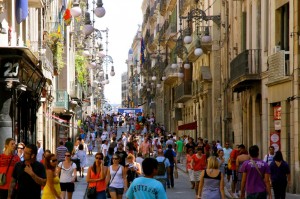 Although I'm sure that most of you have heard of tax free shopping, most people don't realize that it is available in 90% of stores in Barcelona, and that there are certain steps you need to go through in order to catch this great deal.  For one, you must live outside the European Union, with the intention of returning to your country of origin.  The reason for this is because in order for your purchases to become tax free items, you must be bringing them outside of the European Union on your way back from your trip to Barcelona.  Due to the fact that you have to be bringing the items back with you, the Tax Free shopping does not apply at restaurants, hotel bills, or food items, as they are seen as consumables and not exportable.
"Okay, so I can't use this for food or hotels, what can I use it for?" you may ask.  Well, really anything else you plan on bringing home.  Keep in mind that this tax-free opportunity doesn't work for the small things, however.  Your total bill at the store you plan to purchase at must exceed €90.15.  While that seems like a lot, you can get a whopping 21% off of your entire purchase.
How Can I Get It?

Now that you know what Tax Free shopping in Barcelona is, you need to how it works.  In Barcelona, EU citizens pay something called VAT, or value added tax.  Though you may not see it on the price tag of items in shops, this VAT is included in most prices of exportable objects.  Due to these items having the VAT component, these items are actually 21% off of the original price stated for visitors outside of EU.  Before you buy anything, make sure to ask if the shop has signed up with the Tax Free Shopping Service.  While most of them have and have a sticker in their window stating as much, every once in a while a store won't and you need to ask for it.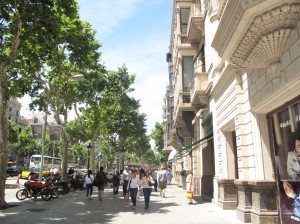 If the store you are purchasing from is part of the Tax Free Shopping Service, ask for a tax refund cheque and the store clerk will fill one out for you.  These cheques are extremely important, so make sure to hang on to them! When you are leaving the country to go back home (or wherever your next flight brings you to), turn in the cheques to the customs gate BEFORE you check your bags.  This is extremely important, as some customs officers may ask to see the items you purchased for your tax refund.  After the customs officer stamps your cheques, you can then turn them in at any Bureau de Change to convert them into the currency of your choice.
But I'm Not Flying Home…

For those of you who are not leaving the country by plane: do not despair!  Although you can't cash the VAT cheques in Barcelona, there is a way to get your money back.  When you go to the first store that you plan on redeeming your tax free shopping at, ask for a VAT reclaim envelope.  As you go from shop to shop, just collect your VAT cheques as you would if you were flying out of the country.  Once you reach your departure point, visit the customs there and have them go through the same process of stamping the cheques.  However, only when you get back to your country of origin can you send the cheques back to the VAT claim office in Madrid in the VAT reclaim envelope you received.  At that point, you will be given a couple of options for methods to receive your money, but the best option is to ask for a direct transfer to your bank account, as often times banks will ask for a fee for cashing international cheques.
Now that you know everything there is to know about tax free shopping in Barcelona, check out some of the fantastic shopping and various other activities around all of Barcelona through our Things To Do tab!