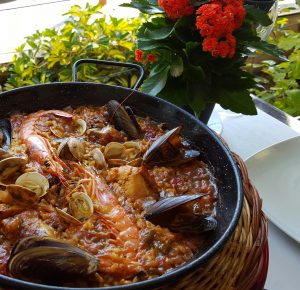 If you're looking to seek a good restaurant and pure escapism from the hustle and bustle of the Catalan capital, look no further than the picturesque seaside town of Castelldefels. A mere 20km south of Barcelona, this town is renowned for its golden sands, ancient roots and the iconic Passeig Marítim. Perched along this vibrant strip of bars and restaurants on Castelldefels beachfront lies the tasty restaurant TasKa – a picture-perfect spot to enjoy a refreshing sangria or a traditional tapas lunch.
Whilst TasKa is a relatively new restaurant on the Castelldefels dining scene, the family owners have over thirty years experience in the restaurant business, so you can be sure that you are in safe hands. Specialising in a blend of Catalan and Spanish gastronomy, their primary focus is fresh and locally sourced produce. Their regional products span from various types of fish and seafood caught from the nearby Mediterranean waters and meat, born and bred in Catalonia. Such high quality products only make for top-notch dishes, but in addition to superb quality, you can expect variety.
TasKa ensures to include staple tapas dishes, amongst more unusual flavours and combinations. For all newbies to Catalan and Spanish cuisine, TasKa aims to provide a complete foodie experience by giving you the opportunity to sample famous local dishes. From pan con tomate, jamon ibérico to patatas bravas, an experience at TasKa certainly provides an insight into local fare, whilst ensuring that you leave with your appetite satiated and taste buds singing with joy.
However, perhaps our favourite yet most underrated aspect of TasKa is its local atmosphere. Enjoy al fresco, Mediterranean dining at its best as you watch the waiters sit down and natter away with regulars as they enjoy their usual order. Whilst this may be a somewhat unfamiliar sight for many, it only adds to relaxed and "beachy" atmosphere of this restaurant. What more could you want as a holiday goer!