Behind La Boqueria market, just off La Rambla, you can find some of the best local Mediterranean cuisine and tapas in Barcelona. Part of the En Compañía de Lobos group, Llop manages to effortlessly transform itself from casual brunch place in the morning, to neighbourhood lunch hotspot in the afternoon and finally to classy evening dining spot by night. Swing by any time to find exceptionally friendly staff serving fresh seasonal produce in a unique modern setting.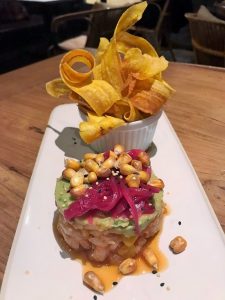 Llop is one of the many birthchilds of renowned enrepreneur, Tomás Tarruella Esteva, and like so many of his projects, it is a local bursting with personality. From the avant-garde decorations, to the carefully selected background music, every aspect of Llop's dining experience reveals conscientious attention to detail. Tall plates of glass line two of the four walls of the restaurant, attracting passersby like moths to a flame whilst simultaneously giving diners a prime view of one of Raval's prettiest squares. An outdoor seating area also tempts those who want to soak up the sun, but the quirky artwork and furnishing of Llop makes eating indoors a visual pleasure of its own whilst you enjoy quality tapas in Barcelona.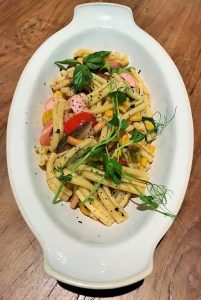 Whether you're eating Spanish style by sharing tapas dishes or opting for the conventional three-course meal, Llop's menu has something for everyone. Perfect for either a starter or tapas dish, the quesadillas are a mouthwatering cheese-lovers paradise, overflowing with chicken, corn, black beans and avocado. Alternatively, a Barcelona favourite – Llop's burrata salad is made distinct with the addition of garden peas, crunchy asparagus with a mint and lime vinaigrette. Vegetables in general feature strongly on the menu helping you to balance not-so-healthy options such as the nonetheless mouthwatering croquettes with light dishes such as a prawn, mango and avocado tartare.
The main meals at Llop could equally be shared as large tapas dishes (and we strongly recommend you do) in order to sample as much of the menu as possible. Everything is reasonably priced, especially considering the obvious high quality of preparation and presentation behind every plate. This is tapas in Barcelona at its best! Munch your way through Italian rigatoni with sage and pistachio pesto before taking a trip to Hawaii for a delicious poke bowl of diced fish. Homesick Americans will also be delighted to find hamburgers (with organic beef) and hot dogs (with Japanese sesame mayonnaise) also available, though presented as haute cuisine as opposed to fast food snacks.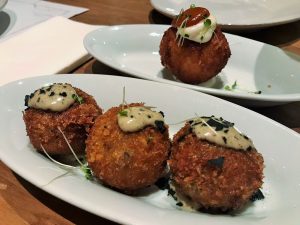 Overall, Llop delivers on all fronts as a great and interesting restaurant. The setting itself is a treasure to behold but remember to enjoy it before your meal arrives because you'll be too distracted by the incredible food to truly appreciate the modern art around you.