There are only a handful of restaurants that can claim to offer the full package: friendly service, beautiful surroundings, and of course, exceptional cuisine. Tantarantana is one of these rare gems, a traditional Spanish eatery where you are guaranteed top-quality tapas every time you visit. Popular with locals as well as with in-the-know tourists, Tantarantana will quickly become a family favourite, and one worth returning to Barcelona for.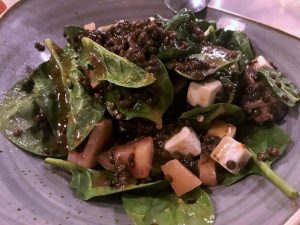 The picturesque El Born neighbourhood is home to the emblematic restaurant, a peaceful area on the edge of the famous Parc de la Ciutadella. Boasting not one but two al fresco dining areas, the restaurant extends between the charming Plaça de Pons i Clerch on one side, and the leafy Carrer de l'Allada-Vermell on the other. Inside, a rustic, cosy interior of stone walls and black and white photographs welcomes patrons, and you can opt to sit downstairs alongside the bar, or upstairs in their open dining area. Whatever your preference, make sure to book a table in advance as this beloved spot tends to fill up daily.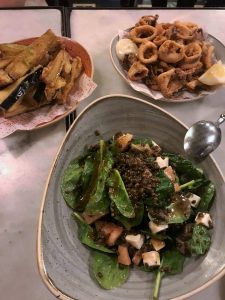 In traditional Spanish style, Tantarantana's ingredients are market-sourced and include only the freshest produce. As a result, even typical local fare such as their golden patatas bravas and batter-fried calamari are of superior taste and a cut above what is found in Barcelona's many tourist traps. For vegetarians and the health-conscious, a selection of salads is on offer, from a beluga lentil dish with spinach, feta and candied onion, to the city's creamiest burrata cheese, served with juicy tomatoes and citrus infused rocket leaves. Also suitable for herbivores, the mushroom risotto with truffled ceps is a surprisingly light option, absolutely bursting with flavour.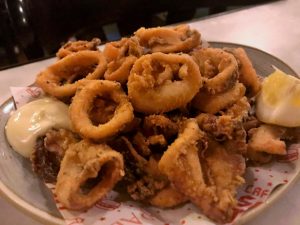 Although the menu is divided between tapas dishes and larger plates, it is recommended to order main courses to share in order to try a more diverse sample of Tantaranata's first-rate gastronomy. In this way, you can discover their roast chicken croquettes, overflowing with creamy béchamel, their succulent confited cod with ratatouille, and the unmissable 200g of ecological Pyrenees beef. Many options are also available for those who have yet to become accustomed to the Mediterranean diet. For instance, their mini burgers are an original take on their oversized American cousins, and perfectly complement the 'dashed' fried eggs, which are mixed with homemade chips and pieces of Iberian ham.
Finally, Tantarantana proves its superiority once more with their dessert menu. This stage of the meal can make or break an experience but thanks to their broad selection and the fact they are all homemade, you can rest assured that your choice will be a winner. But, although all are safe bets, the aptly named 'mythical' lemon pie truly stands out amongst its peers. This dessert is the perfect combination of buttery biscuit base, tangy lemon filling and delicate fluffy meringue. Concluding your meal in style, you will no doubt be booking your same table for the following night… and the one after that too – buen provecho!