It's that time of the year again and the city is beginning to get into the holiday spirit for Christmas in Barcelona.  The weather is cool and crisp, the shop windows on Passeig de Gràcia have their Christmas lights up, and large ornaments are hanging above the main streets of the city.  Barcelona is known for its pastries and sweets, so below are five delicious desserts to try during the season!
 Turrón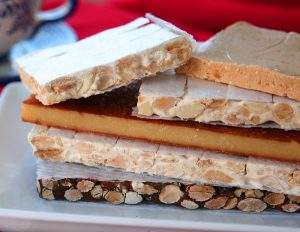 This traditional Christmas sweet is made with honey, sugar, egg whites and almonds or other nuts. Turrón de Jijona is a soft blend with ground almonds and oil, which makes it more sticky. Turrón de Alicante is a hard block made with whole almonds, guaranteed to mess with any dental work. There are also many other variations of with additional ingredients such as chocolate, puffed rice and candied fruits.  One not to miss when spending Christmas in Barcelona.
Polvorones
Polvorones are a popular cookie.  They are sweet and popularly known for their texture since they easily crumble in your mouth. The name comes from the Spanish word polvo meaning dust.  These cookies come in other flavours such as coconut, orange, and vanilla.

Barquillos
Barquillos are tasty, thin rolled wafers and also commonly served for Christmas in Barcelona.  They are light and fun to eat with their straw-like shape. These sweet, tubes are often covered in chocolate or a creamy, delicious filling.  During the holiday season, it they are usually paired with turrón and a glass of cava.

Roscos de Vino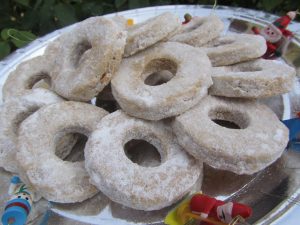 Roscos de Vino are donut-shaped cookies and another sweet treat sold in bakeries during Christmas. These round cookies are made with flour, olive oil, sugar, and some wine. Sometimes the cookies are made with lemon zest, sesame, and brandy for added flavour.  They are usually topped off with powdered sugar for an extra sweet finish.
Xurros con Chocolate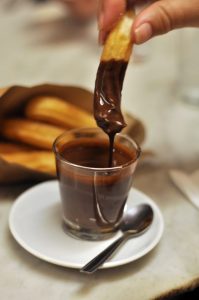 Xurros con Chocolate are a year round favourite and available throughout all of Spain.  There are many options, especially in the Born district. Churros are deep fried dough cooked in the shape of a thick tube, showered with sugar, and served with a side of hot chocolate sauce for dipping.  It is so delectable and a Spanish comfort food, ideal for any time of day,
If you are spending Chistmas in Barcelona, be sure to try to one of these delicious confections or find some that are already packaged for safe shipping back home.  Happy holidays!