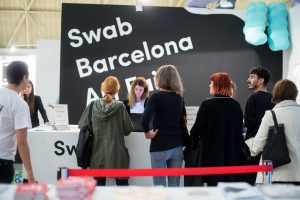 Swab is an international art fair hosted in Barcelona annually, taking place this year from September 27th – 30th.  It returns for its eleventh edition bringing together over 50 artists, curators, and galleries for this collaborative fair.  All types of artists are attending with multiple exhibits thoughtfully organized for the attendee's viewing pleasure. The entire fair will include art installations, paintings, literature, sculptures, and curated works.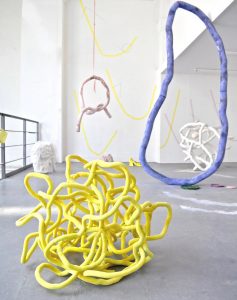 The Square Arts Project, London-based curatorial project return for their third year to showcase contemporary art.  This year, Square Arts Project will share the work of Sandra Lane and Wendy McLean. Both are emerging artists who have studied at two of the best art schools in London, The Slade School of Fine Art and The Royal College of Fine Art.  They are both popular in the city's contemporary art scene. Lane's large sculptures and McLean's abstract paintings will be present for all three days of the art fair.
Activities
In addition to the galleries, the art fair includes interactive art activities  A section of the three-day program is called SWAB Thinks and invites all attendees and artists for an open forum.  This is a time where creatives can comfortably discuss the art industry and its changes. Swab has scheduled five different sessions spread over Friday til Sunday.  Swab Kids, another unique part of the program, is where families can enjoy a special gallery for children and participate in a kid-friendly mural workshop.
Food & Beverage
What is a creative fair without food?  Swab has thoughtfully created a separate dining area called Swab Picnic.  Award-winning vendors will be sharing their delicious artistry and promoting their unique spirit of creativity and entrepreneurship. The legendary Barcelona-based restaurant, Flash Flash, will have a select menu feature their specialty omelets.  Dr. Stravinsky, Agua en CajaMejor, and Tibidabo Brewery will be prepared to satisfy the thirst of hundreds of attendees each day. Dr. Stravinsky will provide the cocktails with their original gin or whiskey,  Agua en CajaMejor specializes in sustainable water, while Tibidabo Brewery serves artisan beers. Lastly, to tie this area together, the elBullifoundation, an organization that promotes new art projects, will have an interactive exhibit in the area where attendees will experience the art of gastronomy.
The fair is definitely worth checking out with tickets ranging from 8 – 30 euro depending on the type of ticket.  The exhibit, galleries, and large installations will be Instagram-worthy and absolutely memorable. The fair starts the afternoon of September 27th and located near Plaça España.  Then, straight down Avinguda de la Reina Maria Christina. Check out www.swab.es for more details!