Taking a tour of the largest wine-producing estate in the beauteous Penedès region is no small undertaking. Sprawling across 464.8 hectares, the Sumarroca vineyards are as extensive as they are stunning. In order to show groups the most scenic locations, Sumarroca offer tours with an experienced guide in a Spanish Civil War army jeep – a bumpy yet educational ride! Even better, after your introduction to the entire production chain of an international winery, you will be treated to an unforgettable al fresco lunch in the estate's grounds. This is an experience for wine aficionados, nature lovers and even vintage motor enthusiasts alike.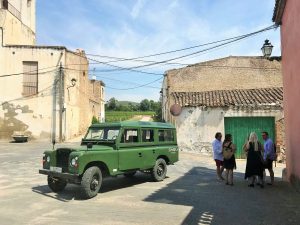 The Sumarroca estate is easily accessible from Barcelona by car (although this is not to be recommended for those who want to participate in sampling!) or a short train journey. It's the perfect reason to escape the unceasing noise and bustle of the metropolis and discover the many attractions of the Catalan countryside. Sumarroca is located in the small town of Sant Sadurní, where many international wine makers, such as Freixenet and Codorníu, can be found. For miles around this typical Spanish pueblo, vineyards stretch as far as the eye can see, punctuated by distant mountains and small patches of forest. It soon becomes obvious why a 4×4 vehicle is needed…
Your Sumarroca guide will take you off-road, right into the vineyards themselves. The jeep makes many stops throughout the tour, allowing you to get up close and personal with the many varieties of grapes and vines and see how the modern winemaking process unfolds. Sumarroca is an organic winemaker and delight in teaching visitors how they make use of natural resources to create their pesticides, herbicides and fertilizer.
A brief respite is also made wherever a particularly breathtaking view reveals itself, and whenever a noteworthy landmark is passed. One such example is a (still operating) church that was built over a century ago for the vineyard's workers, along with a school and various cottages. At each stop, your guide will entertain you with the history behind such monuments and give you time to take photos and look around. You will also have the opportunity to sample a Sumarroca cava in the sunshine, offering an enticing preview of what's to come later on.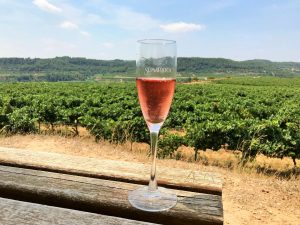 After cruising through the fields, your group will be shown round one of the Sumarroca warehouses to see the vinification production process in action. Learn how different fermentation is cultivated for different types of wine and gaze in awe at the thousands of bottles of cava slowly maturing in the Sumarroca caves. It is truly fascinating to see how oenology has developed and been fine-tuned over thousands of years to become today's modern industry.
With appetites whetted, a last tantalising treat is in store before you sit down for lunch. You will be offered contrasting olive oils to taste in the beautiful setting of a Catalan farmhouse. The Mediterranean is renowned for both its wine and olives and the oils you sample are some of the finest in Spain.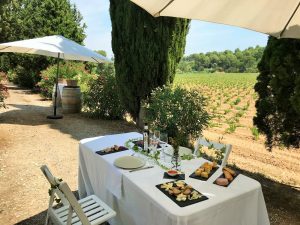 Finally, your guide will reveal the pièce de résistance: your rustic outdoor lunch. In the soporific shade of a tree-lined path between two vineyards, tables are laden with traditional Catalan fare. Delicately sliced jamón ibérico; creamy local cheeses and freshly made tomato bread await Sumarroca's guests, all served by a friendly waiter. Even better, various Sumarroca vintages are carefully selected to pair with each dish, making for a fabulous combination of flavours. Sit back and dine at your leisure, taking in the magnificent countryside surrounding you, the authentic, quality cuisine and of course, the expertly distilled wine. What could be a more perfect end to your Sumarroca tour?