Barcelona is one of the most bike-friendly cities in the world. Residents and tourists alike can enjoy their extensive cycle lanes that offer the best (and the most scenic) way to get around. Steel Donkey Bike Tours take full advantage of this by combining an invigorating day of cycling with a detailed and engaging tour, conducted by an enthusiastic local.
Cycling has some obvious advantages when it comes to exploring Barcelona. It's quicker than walking, so you can cover all the major neighbourhoods in just a few hours, and receive a detailed mental map of the city's landmarks at the same time. Also, since the oldest part of Barcelona, the original heart of the Roman city, Barcino, is largely pedestrianised, cycling gives you access to streets and squares impassable for cars. Admire the abundant stunning architecture in the open air where you can fully appreciate the modernist apartment blocks and Catalan Gothic churches.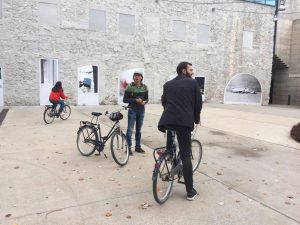 Steel Donkey's veteran tour guides are intimately acquainted with the rabbit warren of narrow streets that crisscross the Gothic and El Born districts. They will confidently lead you weaving through this confusing maze, pointing out every notable attraction along the way. Not only will you be shown the city's most famous landmarks, your guide will make the route personal by revealing their own favourite hidden gems, off the beaten track. Whether that involves playing ping pong in a park, admiring Barcelona's unconventional street art, or munching chocolate-dipped churros by the Sagrada Família, you'll undoubtedly be as knowledgeable as a true Catalan local by the end of your tour.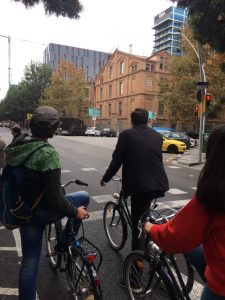 Steel Donkey is also substantially longer than many walking and bus tours, taking around five hours in total. Once again, since every individual tour is different, the timing is only approximate and you may choose to browse the many shop windows as you pass and buy some souvenirs. The option is always there to stop and dismount in order to explore the particular area you find yourself in – another major contrast to more strictly scheduled experiences that rush from one monument to another. Similarly, the level of detail the tour narrative takes is also partially decided by you. Ask any question about the Catalan capital and your informed guide will provide fascinating insights about the culture, people and history of the famous city.