As far as bachelor or bachelorette events destinations go, Barcelona is in the top 6 for these popular weekend getaways and adrenaline-filled excursions.
These celebrations for the traditional stag do or hen do is a "last night" of passage hood from freedom and can get a little bit on the wild-side. So here is a short survival guide on how to have a successful and memorable one.
The best way is to book your activities through an official bachelor and bachelorette events organization, which helps to ease groups through jam-packed, tailored activity packages all over the city with stacks of things to do. Better still, use an organization based here in Barcelona – and one that has quite a few years experience in this field.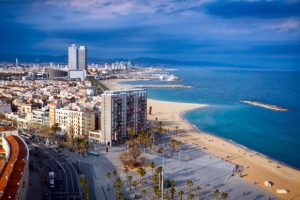 This article will give you some thoughts on the newer, popular activities proving successful in the city. BCN Events & Crawls is an English-language ex-pat company based in the city. The company has been organizing activities and bespoke events packages since 2010 and has a massive selection of available activities during your weekend away with a group of best buddies.
Barcelona Stag Dos and Hen Parties – Dos and Don'ts
Staying in a hotel, especially for a large group, is maybe an expensive option.  Official apartments are the way forward.  While there are much less limitations than a hotel, there are quite a few regulations and restrictions on apartment rental, so we recommend checking the city's largest apartment rental company Apartment Barcelona, which will help you find the right place… they literally have thousands to choose from!
BCN Events and Crawls also provide airport transfers, or if you fancy arriving in style, maybe private Hummer hire is flavour of the day and is the perfect entrance into the city.
Best advice at you digs is to keep it down while you're at your rental apartment and respect your neighbours, but of course, let your hair down while in this city – simple really, just like the locals do!  Barcelona is well known for its nightlife the world over, so BCN Events and Crawls can also help here with selected night events and specific clubbing activities. The rest is common sense really.
There are of course a whole host of activities, attractions and other places of interest to check out in the city.   To get an idea of the more cultural and adrenaline fueled sports activities that people are participating in, then try these ideas.
Flamenco Show/Banquet
This takes place at Poble Espanyol, the enchanted area of Montjuïc which is a Spanish town themed complex, located just a short walk above the Magic Fountains. The Tablao de Carmen Flamenco Show Barcelona always includes the participation of well-known artists, accompanied by promising young artists. This show includes a 3 course meal and drinks, for more menu options, check here.
Camp Nou Experience
Probably one of the largest football stadiums in the world, and home to one of the best football sides in the world. With such a great heritage, Barcelona Football Club's Camp Nou tour is a very popular attraction in the city. Infact if there's a game on, BCNE&C can also help you get genuine match tickets as part of your package.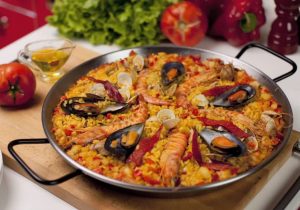 Spanish Cooking/Paella Cooking Classes
Useful skills for both bride or groom, and we all love a great paella! So learn how to make the perfect one at on a class where they know a thing or two about the dish. There are other options open to budding chefs, including some of the other local delicacies, such as tapas. You also get to learn how to make Sangria and drink it during class!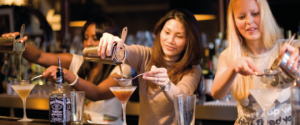 In Touch With Your Spirits
Nightlife skills up next, and how about Cocktail Master Classes or a Gin Tasting Workshop.  These are very well curated events and will help you learn new tricks for later life with lashings of alcohol as part of the ticket.
Hi-Octane
This is trips like the Helicopter Tour and the Hot-Air Balloon Experience. Both of these are spectacular outings and give you more than a drone's view of the city and its surrounding countryside. You probably might want to get these activities out of the way early in the schedule though!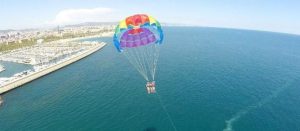 Barcelona also some fantastic indoor and outdoor go-karting parks. Other popular activities include: chartering a private catamaran, flyboarding, parasailing, kayaking and snorkeling in caves, cycling and jet skiing among other sporting activities available along Catalunya's beaches.   To take advantage of some great offers on these activities, or if you're thinking of planning a scheduled event featuring events like these, then it is best to deal with experts, especially one who is located here.  Click here for further info.
Save
Save
Save
Save
Save
Save
Save