With 300 days of sun in the Catalan capital, there's no better place to be than soaking up the rays in the Barcelona sunshine. Evgeniy's sketching class allows you to enjoy just that whilst simultaneously learning how to expertly draw one of the city's most iconic monuments. Take your pick from the Sagrada Família, Arc de Triomf, Santa Maria De Montalegre, La Cascada in Parc de la Ciutadella, Casa de les Punxes and the Església dels Josepets, and create a sketching masterpiece under the patient instruction of Evgeniy Stasenko. Join him for one of his fantastic outdoor workshops, with all materials supplied by him, and find the artist in you!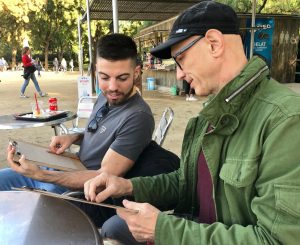 Having studied Fine & Graphic Art in his home city of Moscow, Evgeniy's passion for drawing is evident in his careful and thorough teaching technique. Before putting pencil to paper, he ensures that each of his students have understood the premise for the class and how to approach the sketch. He expertly explains everything from the utensils used, and the purpose behind them, to how to draw such a vast landmark like the Sagrada Familia or the Arc de Triomf. The sketch is carried out in stages, whereby the students follow Evgeniy's step-by-step approach to create a truly spectacular finished piece. What's more, throughout the workshop, he provides tips and pointers for how you can improve or edit your sketch in order to enhance your drawing skills as well the sketch itself.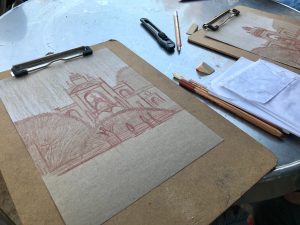 This original experience is the perfect opportunity to give your tired feet a well deserved rest from traipsing around the city, and admire emblematic icons of the city from a new and unique perspective. Evgeniy welcomes guests of all abilities and from all corners of the world; he simply expects enthusiasm and a willingness to learn and experience something different. What's more, at the end of the class Evgeniy takes your sketch and professionally transforms it into a printed postcard for you to send your family and friends back home, and wow your loved ones with.