Much of what lures people to skateboarding is how exploratory  it is. Dropping your board in a new place is experimental and taps into the soul of real adventure. Along with sessioning a spot, the whole practise of searching the streets, hoping to be the first to find something new, meeting people, and even posting up for a bite, is all part of the journey.
Why Barça?
Europe's Capital, the Mediterranean Mecca, call it what you want, Barcelona is a skateboarding paradise. Barcelona experienced a golden era of skating back in the 90s when it seemed like every skater flocked here for cheap living and absolute freedom to skate anywhere, but it's still one of the great places to skate in the world. Today, both amateurs and professionals travel from all four corners of the globe to experience some of the best street and park skating in the world.
Keep an eye out
It is important to point out that in 2006 a law was introduced allowing the local police to prosecute skateboarders (in the street, not in specific skateparks). Due to a previous legal void in this field, the Generalitat (Government of Catalonia) approved a civic law enforceable by the application of fines for misuses and abuses of public space; namely urinating or defecating in public, begging, juggling, selling goods without permission, vandalism and now skateboarding. Fines can reach an astonishing 3000€ (ironically for begging) and serve as a means of deterring the general public. Most police are sympathetic towards skaters and turn a blind eye, but be careful when they are in sight.
Street Skating
Aside from the obvious skate parks of Les Corts and Mar Bella, here are some of our favourite street skating spots.
Besos Bumps
The neighbourhood of Besos is full of good skate spots. Walkways, overpasses, banks, a rail that one can only dream of switch kickflipping, and of course, the famous Besos Bumps, or concrete waves. Traffic can be intense in this area so make sure you take care when skating here.
Metro – Besos (L4)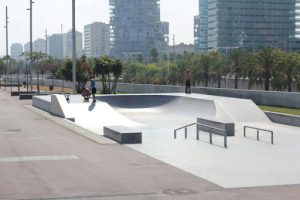 El Fòrum
There are many great options to skate around Maresme Fòrum metro station and even a small skatepark. If you're on a longboard then you must make sure to check out the Fòrum downhill, an awesome skate with an equally great view. If skating here, make sure to bring supplies as there aren't many shops in the area.
Metro – El Maresme Fòrum (L4)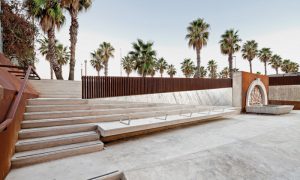 Font Carmen Amaya
If you find yourself in the Barceloneta area, which you surely will, then check out one of the most famous skate spots in the city. It is basically a beautiful fountain – more a piece of art than a skate spot and one almost feels guilty when skating it. Just one street from the beach in a quiet area of Barceloneta, this spot is a must for serious skaters.
Metro – Barceloneta (L4)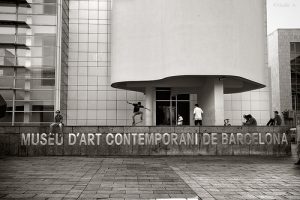 MACBA
If one word were to epitomise the Barcelona skate scene then that word would be MACBA (even though it's an acronym!) The Museu d'Art Contemporani de Barcelona has one smooth granite ledge at the centre, just calling out for you. Along with a few more ledges, some drops, a good five set and a newly renewed big three set in the back, this place has got it all. It also has a great vibe, young people gather to drink and chat whilst watching the skating. Stop by late afternoon and you might even come across pros such as Paul Rodriguez and Miles Silvas who love to hang out and skate there when in town.
Metro – Universitat (L1)
Universitat
Right outside Universitat metro station in Plaça Universitat. The granite floor combines with the many granite ledges to make this a perfect spot to skate, as they give you the option to go regular or goofy. Check this spot out in the morning as it gets very busy during the day. Once done here you're only ten minutes from MACBA, too.
Metro – Universitat (L1, L2)
The W Hotel
Just next to the world famous W Hotel there are a few skate spots which really are awesome. Without a doubt the best of them is the long curve of ledges which are just perfect to skate. With a few handrails next to the hotel as well, and of course the fact that you're right next to the beach, this spot is a must for skaters visiting Barcelona.
Metro – Barceloneta (L4)