Renowned as a celebrity hotspot, having previously welcomed the likes of Madonna, Coldplay and Lady Gaga, Shôko certainly knows flawless dining and how to throw one hell of a party. Spend an unforgettable night at their swanky fusion restaurant, followed by a boogie on the dancefloor and a privileged spot in their VIP section. Remember to dress to impress (think beachside glamour), as you mingle amongst Barcelona's elite, and enjoy a memorable night in one of the Catalan capital's most luxurious nightlife haunts.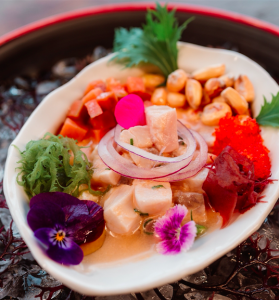 Kick off your night on the town with a late dinner at Shôko's beachfront eatery, boasting a unique medley of Asian and Mediterranean cuisine. Their distinct menu boasts an expansive selection of flavours to suit a wide range of palettes. Whether you prefer more exotic or traditional ingredients, Shôko's range of Mediterranean tapas, sushi, wok dishes, paellas and entrees certainly cater for both local and international clientele. Whilst sampling the staples of Catalan fare is essential during your trip to Barcelona, we advise taking full advantage of their unique Asian offerings, which are unlikely to be found elsewhere in the area.
To begin, we recommend sharing a selection of light starters to whet your appetite. Our top picks include the marinated shrimp salad served with a zesty avocado, mango and red quinoa salad and their shrimp and vegetable tempura with Ponzu sauce. Given the restaurant's proximity to the sea, it comes as no surprise that Shôko pride themselves on their exquisite fish and seafood dishes. In addition to their myriad of sushi platters, their salmon glazed in a tangy miso sauce, on a bed of papaya and mango tossed in a tamarind vinaigrette is simply divine. That said, if you're more of a carnivore, their 'chimichurri' steak is tender, succulent and perfect for lining your stomach before painting the town red.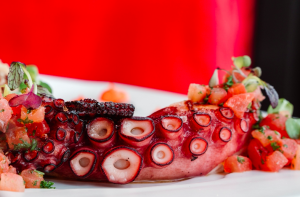 However, perhaps most impressive is their dessert menu, with one desert in particular taking centre stage. Made to order at your table, their cryptic 'Texturas de Chocolate' is quite literally a showstopper of a dessert, and will have the other guests ogling at your table, as pure chocolate decadence is created before your eyes. Whilst the flavours and ingredients change from time to time, the concept remains the same – think chocolate bombs and edible art. If that doesn't quite do it for you, treat yourself to a post-dinner cocktail from Shôko's endless drinks menu, featuring classic concoctions as well as more daring options.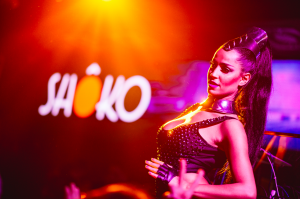 From the dining terrace to the dancefloor, dance 'til dawn to the best beats of Shôko's international DJs like DVBBS and Sebastián Gamboa or their resident Dj's such as Tony Storella, and Dj Papi. We recommend booking online in advance, to guarantee a table in their exclusive VIP section, along with your chosen bottle of bubbly. With panoramic views of the entire club, your private spot in the lounge entitles you to VIP treatment all night long, as well as a place to rest your sore feet and enjoy your drinks away from the crowd. Ah, the VIP life!