"Wake me up when September ends…" Despite the gloomy note that the indie rock  band Green Day have universally forced upon the month of October, summer has not yet gone and passed in Barcelona. Despite a few odd showers, and maybe the need for another layer, the summer season is still very much in full swing here. If you're planning a trip to Barcelona this October, have a look at seven ways the city is successfully proving Green Day wrong.
1. Chiringuitos
Chiringuitos are the pop-up beach bars and restaurants that you find all over the beaches in Barcelona. They open from April until the end of October, and provide the perfect location for cervezas, sangria and tapas with a view!
For the ultimate chiringuito experience, La Guingueta on Barceloneta beach is the one to watch. Set up by one of the most highly regarded chefs in Barcelona, Carles Abellan, its homely but high quality tapas and funky pop art décor will win you over instantly. For the ultimate sun worshippers, they even provide waiter service to your spot on the beach.
2. Parc Güell
Gaudi's magical Park Güell is open all year round, but closes earlier during the winter months. Until the end of October, Park Güell is open until 20.30, meaning you can still catch that Instagram worthy sunset from the most magical spot in the city.
Top Tip! Although taxi drivers tend to drop you at the ticket entrance, you can actually walk around most of the park for free. For the full experience, buy your ticket online and in advance for cheap prices and queue skipping.
3. Rooftop Bars
Two words. 'Rooftop' and 'bar'. A combination impossible not to smile at. Many of Barcelona's rooftop bars stay open until the end of October, particularly those at the top of hotels, such as the Skybar at Grand Hotel Central (open 13.30 – 21.00 to non guests daily).
For a smaller but equally special experience, Born Voraz is one of Barcelona's best kept secrets. A hidden gem in the middle of the Born district, the terrace radiates Ibiza style tracks and 5€ sangrias whilst guaranteeing an unforgettable view of Tibidabo palace over the rooftop pool!
4. Festivals
Say goodbye to muddy wellies and sopping raincoats of British summertime festivals…Barcelona's festival season is not over yet! The city embraces music and culture of all varieties all year round, saving some of the most exciting events for the less touristy months.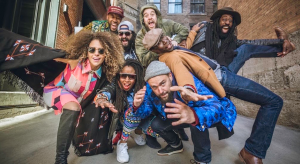 Say it Loud 19-31st October
Returning to Barcelona for its 10th year, Barcelona's Say It Loud festival is a celebration of international music and culture. Over a week's worth of concerts, exhibitions, lecture and workshops to keep you entertained this October.

Monumental Club 28-29th October
The last functioning bullring in Catalonia transforms into a new festival, The Monumental Club for the last weekend in October. Live music, DJ's, street food and more from 12.00-22.00 both days – and only 2€ entry.
5. Rowing at the Parc de la Ciutadella
Pack a picnic (and maybe a jumper) and rent a rowing boat at the Parc de la Ciutadella this October. Open from 10.00 – 18.00 every day, this is the ideal activity for a romantic date or a coffee break…whatever floats your boat.
Prices for 30 minutes:
2 persons: 6€
3 persons: 9€
4/5 persons: 10€
6. Day Trip to Sitges
If your stay in Barcelona is long enough, you'd be mad to miss a day trip to Sitges. This Mediterranean beach town is surrounded by picturesque mountains that generate a warm microclimate, keeping the summer going well into the end of the year. Try to catch The Sitges Film Festival from 5th – 15th October, an internationally renowned event celebrating cinema which attracts tourists from all over the world.
Trains go daily every 20 minutes from Barcelona Sants.
7. Cable Car Views
Whilst the sun is still shining in Barcelona, make the most of its spectacular scenery from the top of the Montjuic and Port Vell  cable cars, which are both still open late until 19.00 this October.
Love you Green Day though we do, let's wipe out October's sombre stereotype and make the most of the end of the summer this year.