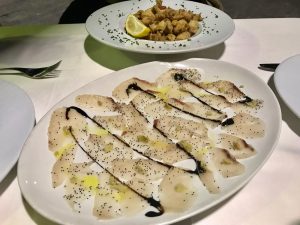 Gastronomy is intrinsic to Catalan culture, therefore tapas tours that take you to the top spots in the city to enjoy traditional fare are vital for any trip to Barcelona. Fortunately, Sagrada Familia Tours are on hand to take you to some of the best foodie spots, so that you can enjoy the crème de la crème of Spanish cuisine. What's more, all their private tapas tours are hosted by a friendly and knowledgeable guide to share their in-depth knowledge, passion and secrets about the magnificent city of Barcelona.
Whilst the name suggests otherwise, this gastronomic venture actually takes place in the bohemian and picturesque neighbourhoods of El Gótico and El Born (not Eixample, which is which is where you can find Gaudí's iconic monument). Given that this tour company solely offers private tours, all their routes and restaurant choices are 100% personalised and tailored to your dietary requirements, cultural preferences and physical ability. For example, Barcelona newbies may prefer their guide to provide a more general overview of the city's history whereas tourists who are well acquainted with the metropolis may be more interested in off the beaten track recommendations.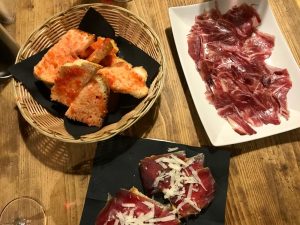 The tapas tour generally consists of three local restaurants, however whilst they all pride themselves on serving authentic dishes, Sagrada Familia Tours ensures that they are all distinct from each other. For instance, whilst one eatery may blend Catalan and Asturian cuisine, another may recreate traditional recipes, but with an innovative and contemporary twist. Either way, Sagrada Familia Tours ensures that in addition to providing a memorable and enjoyable evening with your loved ones, it is also educational about local gastronomic traditions.
At each stop, your guide will order a selection of tapas, usually the restaurant's prime dishes so that you can gain an insight into their specialities. However, your guide equally ensures that you are able to sample a wide assortment of flavours, ingredients and combinations, in order to receive the complete tapas experience, all in the space of a single evening. Whilst at one stop, the focus may be on pan con tomate and its common pairings, such as jamón ibérico and a selection of cheeses, another round of tapas may consist primarily of fresh fish and seafood.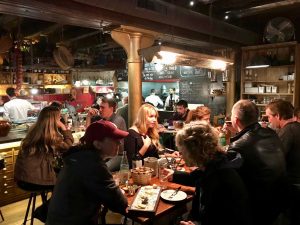 Food without wine is simply not a concept that exists in Barcelona, given that the city is surrounded by a phenomenal number of wineries and vineyards. Throughout the tapas tours, your guide will make recommendations for the best wine pairings, based on the flavours and textures in the dishes ordered at that stop. Since there are three different stops, we advise opting for a red, a white and a cava so that you can try a broad variety. Cava is Spain's equivalent of champagne, and a chilled glass of bubbly is the perfect way to kick start your tour – trust us!