Five hundred years before Antoni Gaudí began working on Barcelona's signature church, Sagrada Familia, the imposing but lesser-known Santa Maria del Mar had already been completed. This monumental Gothic construction has certainly withstood the test of time, surviving earthquakes, wars and even an arsonist attack.If you have an interest in the Catalan capital's culture, ecclesiastic history, or merely enjoy a spectacular view, don't miss the Riosta Barcelona rooftop tour for a detailed narration and a breathtaking new perspective of the city.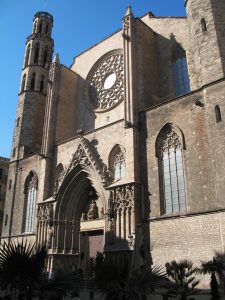 Santa Maria del Mar is frequently held up as a preeminent example of quintessential Catalan Gothic style architecture. The simplicity of its interior (in part due to the fire that consumed the building for eleven days in 1936), is breathtaking in its elegance and memorable for its harmonious proportions. What's even more impressive is the fact it took only 55 years to complete – incredible considering how long it has taken modern architects to complete the Sagrada Familia!
With half a millennia to accumulate, the facts, myths and anecdotes about this unusual church are manifold. As such, an expert guide to walk and talk you through everything is both indisposable and extremely enlightening. In the one hour tour, the Riosta Santa Maria del Mar experience will explain all there is to know regarding the building's design, construction, symbolism and significance. What's more, they will lead you to the rooftop and treat you to an unrivalled bird's eye perspective of the affluent El Born neighbourhood. From here, you will have the chance to examine the enormous rose tinted window up close and be amazed by the ingenuity behind the church's Middle Aged ventilation system.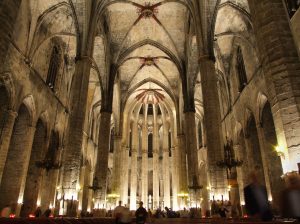 During the course of this tour, you will become well acquainted with every inch of this majestic basilica, from its deep crypt and ornate gallery, to its lofty columns and giddy heights. Moreover, proceeds from the tours are a valuable source of income for the ongoing task of recovering and conserving this important building. Overall it is a profound experience for any history buff and a breathtaking experience for anyone with an interest in the city of Barcelona.