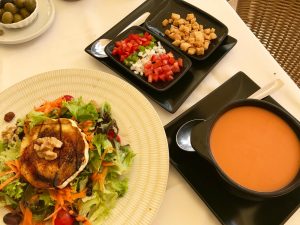 Lunch in Sitges is the perfect reason to escape the hustle and bustle of Barcelona for the day, with its serene beaches, copious amounts of sunshine and quaint boutique shops. Not to mention, this coastal town is home to some of Catalonia's top and most authentic restaurants, namely Restaurante Costa Dorada.
This seaside eatery is located on the beautiful Sitges shoreline, with a prestigious view of the glistening Mediterranean waters and golden sands – an idyllic setting for a lunch in Sitges with that special someone. With more than 40 years of experience, you can rest assured that you are in the hands of Spanish cuisine professionals, especially when it comes to their specialities: fish, seafood and of course, paella. Lunch in Sitges never tasted so good! 
Joan Vidal, the talented chef of Restaurante Costa Dorada, is the third generation of his family to lead the restaurant to success, attesting to the family's dedication to providing high-quality Mediterranean fare. However, whilst Vidal recognises that the food itself is central to providing a memorable and superb gastronomic experience, he equally values the importance of excellent customer service. Locals, expats and tourists repeatedly return to Restaurante Costa Dorada thanks to the attentive service by the waiters and the chef himself, setting it far above its competitors. Joan frequently makes the rounds to check on his guests and provide menu recommendations, whilst the waiters ensure to attend to your every need and always with a smile.
That said, Restaurante Costa Dorada would not have the status that it does today without their impeccable menu. Chef Joan uses only fresh, local and seasonal ingredients when preparing his dishes, all of which are sourced within the nearby region. Given the elaborate selection of fish, meats, paellas and salads, we recommend opting for their set lunch menu to enjoy the best of what they have to offer. For a traditional taste of Andalusia, why not kick things off with a refreshing bowl of chilled gazpacho soup followed by a quintessentially Catalan lunchtime dish of seafood paella. Whilst Restaurante Costa Dorada is famed for its take on the classic rice recipe, their fideua made with noodles instead is also worth trying if you would like to sample something slightly different.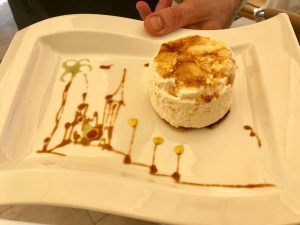 Choosing a dessert at Restaurante Costa Dorada is tricky business, so we say treat yourself and go for two! Joan Vidal's ability to create light and foamed versions of classic desserts, such as lemon pie and crema catalana, has lead to him winning awards in Spain, and simply must be tried. Sweet, light and airy, we can assure you that these desserts will leave your tastebuds singing with joy, and the perfect sweet treat after a heavier main course.
Many would agree in saying that a good sangria is the mark of a good restaurant in Spain (much like patatas bravas), and Restaurante Costa Dorada has certainly hit this red wine-based cocktail on the head. All too often, restaurants rely on their famous friend, Don Simon, as the base of their sangria, however Restaurante Costa Dorada's homemade recipe is worlds away. Fruity, revitalising and with that all important kick, it is the perfect beverage to lull you into an afternoon siesta on the nearby Playa de San Sebastián.