This neighbourhood near to El Raval and Paral·lel has lots of hidden gems packed with charm and character, off the beaten track. Here are five of our favourite places to hang out and enjoy the culture and bars in Poble Sec.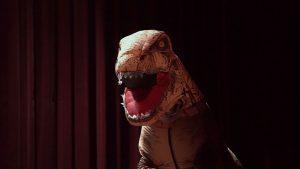 1. Cutting edge dance at Sala Hiroshima
Hiroshima's artistic focus is on dance, new dramaturgy, contemporary circus, live music and multidisciplinary experiences, contrasting disciplines for open-minded audiences. It is also space for leading-edge hybrid creative research. Their agenda has a powerful focus on emerging artists, as well as working with established artists who explore new languages and technology applied to the stage. There is a strong presence of both local and international artists. Highly recommended.
Vila i Vilà, 67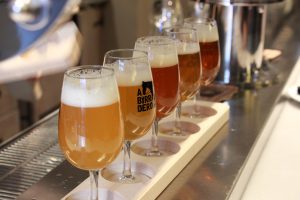 2. Craft beers at Abirradero

In a city that is rapidly embracing the craft beer revolution, we've come across one brewpub that really stands out from the crowd. With 40 separate beer taps, Abirradero is the brewpub with one of the most taps in Europe and certainly one of the most exciting bars in Poble Sec. What's more, over 20 of these taps offer their own beers from the brewery downstairs. It is also a restaurant, serving excellent tapas and creative dishes which all include at least one ingredient from the brewery such as malt, hops, or even the beer itself.
Vila i Vilà, 77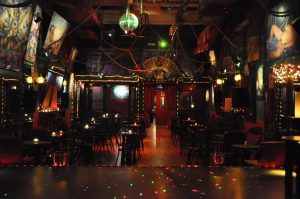 3. Tango and improv comedy at Tinta Roja
This Argentinean cocktail bar has become somewhat of a legend in Barcelona for its irrepressible tango nights. Live bands roll out popular Latin rhythms whilst the dancefloor moves to its sultry beats. The venue's décor is elaborately carnivalesque, with gaudy paintings and kitch objects d'art that create an ambience of sheer fun. It's also the location for the Barcelona Improv Group's monthly improv shows in English, a firm favourite night out for an international crowd.
Creu de Molers, 17
4. Tapas in Carrer Blai
This pedestrian street is lined with quirky bars that offer an exquisite selection of tapas and pinxos. These creations are loaded onto a piece of bread, with cheese, meat and fish varieties to create bite sized gastronomic experiences. Some of these restaurants are rather small, it may be wise to go earlier so you can find a place to sit. Popular tapas bars in Poble Sec include Blai 9, La Tasqueria de Blai (Blai, 17), and Koska Taverna (Blai, 8).

5. Cocktails at La Federica

The chic design of this ultra-modern hangout offers a throw-back to 70's San Francisco and is a world away from the average Barcelona drinking hole. Its distinctly retro interior and edgy artwork is enough to warrant a stop off here, but more than anything, the cocktails are a talking point. Quite possibly the best mojitos in the city and some of the friendliest staff in town. This fashionable spot also doubles as a gay bar and is helping open up new pastures for the LGBT community.
Salvà, 3